It wasn't until the world went into lockdown as a result of COVID-19 that video calls, virtual conferences and live-streamed events became a norm for all of us.
In our personal lives, video calls have been the most reliable tool for catching up with friends and keeping in touch with loved ones.
For businesses, video calls have been harnessed for equally important but very different reasons. They have brought teams closer together, allowing them to communicate as though still in an office environment. Live-streamed events have replaced actual events, while in fact expanding audiences, as digital communication allows us to seamlessly reach people from across the globe.
Overall, video calling has meant that important projects have continued to progress, despite the fact the rest of the world seems to have come to a halt.
From the get-go, it has been easy to identify the two biggest names in this market as Microsoft Teams and Zoom, as it seems almost all businesses are using one of these platforms to communicate.
Before the COVID-19 outbreak, Zoom had roughly 10 million monthly active users, compared to Microsoft Teams' 32 million daily active users. However, Zoom now reports having over 300 million daily meeting participants every single day, as remote working and schooling has amplified the demand for video communication.
But Zoom's huge influx of new customers could be considered as both a blessing and a curse, as it seems the popularity of the application came sooner than they had anticipated. Scrutiny around the safety and security of Zoom users, in light of data collection and software, has dominated tech news over the last few months.
On the flip side, we've seen Microsoft Teams continue at a steady rate, bringing out new, advanced features and settling their customers' concerns by releasing information on the security behind the application.
In this article, we will explain why Microsoft Teams trumps Zoom in offering businesses a safer and more sophisticated platform for virtual communication.
Privacy and security controls
Control over privacy when using video tools is essential, as you need to reassure not only your employees but also your clients, that you are providing a safe environment where communication can take place freely.
You may have heard the coined term "zoom-bombing", which was an unfortunate result of many people experiencing uninvited participants in their meetings on Zoom. This flaw in the application enabled hackers (or uninvited participants) to hijack various components of live meetings and even forcefully enable desktop control permissions. This led to not only the leaking of private information but the unwelcomed screen sharing of inappropriate content on private meetings. Not ideal if hosting a professional call with important clients.
While it appears that Zoom has provided updated features around limiting call accessibility to public members, many feel that engaging with an application that suffered such a loophole is a risk.
Microsoft Teams, on the other hand, provides a variety of privacy and security controls, allowing users to manage who participates in meetings and who has access to confidential meeting information.
As a user of Teams, you can decide who joins your meetings, including members from both inside and outside the organisation. You can also remove participants during a meeting, as well as designate trusted "presenters".
When inviting external individuals into your meeting, you may wish to limit their involvement. With Microsoft Teams you can moderate what content these users can and can't share, while advanced artificial intelligence will monitor all communication to prevent negative exchanges, such as harassment or bullying.
In Microsoft Teams, all participants will be automatically notified if a meeting is being recorded. Once the meeting is over, the recording will only be accessible to those who took part in the call, while being securely stored on a controlled platform, which is safeguarded by permissions and sophisticated encryption.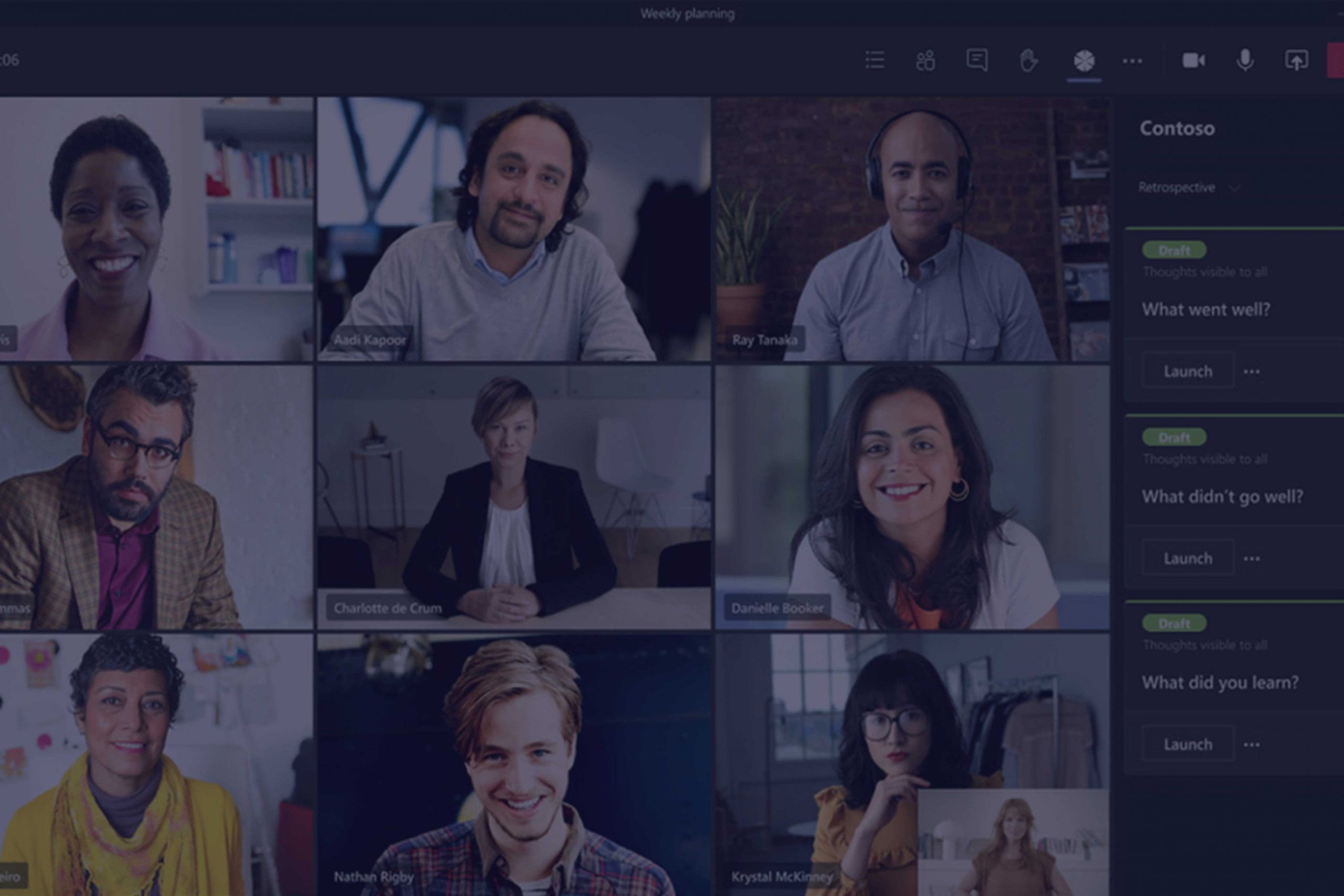 The safety of your data
The collection and storage of data is a huge focus for all businesses today, with GDPR forcing all organisations to treat data as a sensitive area, requiring strict and thorough processes.
One of the earliest critiques of Zoom was around their lack of transparency within their privacy policies. After the "zoom-bombing" epidemic, came evidence that Zoom was also sending users' data to Facebook, even if the user did not have a Facebook account.
Zoom's privacy policy failed to mention that the iOS version of the Zoom app was sharing analytics data with Facebook. The iOS Zoom app would notify Facebook when the user opened the app and provide details such as, the user's device model, their time zone and city, who their phone carrier was and other data, which would ultimately aid companies in targeting users with specific advertisements.
How does Microsoft Teams compare? In a statement released by Microsoft 365's CVP, Jared Spataro, the importance of data protection was announced as a top priority:
"Our approach to privacy is grounded in our commitment to giving you transparency over the collection, use, and distribution of your data. Far from an afterthought, privacy is deeply ingrained in our company philosophy and how we build products."
To summarise this statement, Microsoft Teams explicitly claims that no data gathered from users on Teams is used to serve targeted advertisements. Furthermore, they take serious measures to ensure the protection of users' data and carefully design their requirements to fit with government conditions around data collection.
Microsoft Teams goes one step further by allowing users to view regular transparency reports via the Transparency Hub, where users can access details about which third-parties may have requested their data and how Microsoft responds. Sounds pretty solid to us!
Protection from cyber security threats
With new and sophisticated cyber-attacks being developed every day, ensuring you use a video communication tool that protects your business from cyber security threats is crucial.
Nearly all online applications and platforms are at risk of being hacked, which is why it is important to engage with a video tool that has the correct encryption in place.
Encryption secures communication so that only those invited as a participant can access chats and videos. Unfortunately for Zoom, their lack of cyber security measures were revealed when their spokesperson reluctantly admitted that:
"Currently, it is not possible to enable end-to-end encryption for Zoom video meetings."
This means that those using Zoom for its free calling functions are left vulnerable to hacking, which poses huge risks for organisations who utilise the platform to discuss sensitive topics, such as legal issues or medical evaluations.
This issue encouraged the National Cyber Security Centre, part of intelligence agency GCHQ, to bring out specific advisories, guiding those using applications like Zoom for video conferencing, to ensure nobody would fall victim to security breaches.
Microsoft competes strongly in this area, being considered as a leading organisation in the realm of security. Microsoft processes more than 8 trillion security signals every single day, using these to actively protect users of their platforms from security threats.
When concerning Microsoft Teams, all data is encrypted in transit and at rest, meaning that any data concerning video, audio or desktop sharing is always stored safely in Microsoft's secure network of datacentres.
"Teams enforces team-wide and organization-wide two-factor authentication, single sign-on through Active Directory, and encryption of data in transit and at rest. Files are stored in SharePoint and are backed by SharePoint encryption. Notes are stored in OneNote and are backed by OneNote encryption. The OneNote data is stored in the team SharePoint site." Microsoft Teams, Security Compliance Overview
Become a Microsoft Teams user today
So there you have it, the reasons Microsoft Teams is a much safer and secure video tool than Zoom.
Ensuring the safety and security of your businesses data when integrating new communication tools should always be a priority, which is why we support our customers by harnessing Microsoft Teams in their companies.
Video communication aside, Microsoft Teams offers a wide range of benefits for businesses of all sizes, from communication to file sharing, in a safe and secure environment (read more about why we love Microsoft Teams here).
If your business would like to migrate to working on Microsoft Teams, we can support you with that!
Get in touch with one of our advisors today to find out more.