Microsoft Viva is an employee engagement platform tailored to empower businesses with powerful communication tools and educational resources that can become part of their bustling culture.
This set of immersive experience tools sits within Microsoft 365 and Microsoft Teams, amplifying the importance of learning and development, wellness, engagement and data in businesses.
But what is Microsoft Viva and how can your business benefit from using this employee engagement platform?
Microsoft Viva is a whole family of solutions. In this article, we will be focusing specifically on Viva Connections, Viva Topics, Viva Learning and Viva Insights, as well as their advantages.
Viva Connections
Viva Connections is the gateway to your employee engagement journey! This completely customisable platform allows you to put your brand at the forefront of business news, conversations and events. Included within the Microsoft 365 plans via SharePoint Online, Viva Connections can help you foster meaningful connections across your company.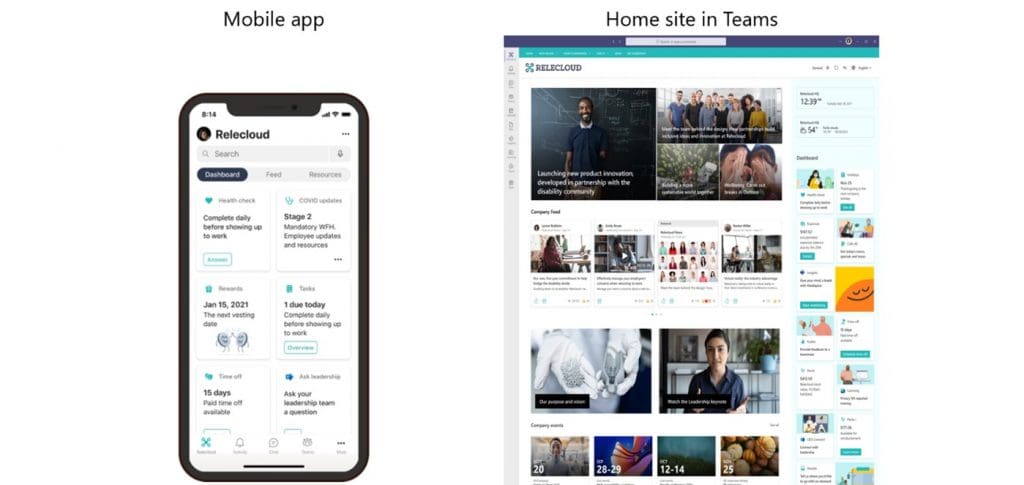 How does it work?
Viva Connections acts as a business intranet, or better yet, a hub for all company-related activity. When building your Viva Connections destination, you have the opportunity to reinforce your organisation's identity with custom branding, colour palettes and logo placement.
Feature news, events, countdowns and policies in a clean and engaging display, allowing your workforce to access the information they need, without effort.
Its seamless integration means it sits comfortably within existing popular applications in your business, like Microsoft Teams. It can be deployed by your IT partner in no time, uniting your workforce and reiterating your business' vision, mission and ambitions.
What are the benefits of Viva Connections?
Easy integration of content from other Microsoft 365 services – Take information from SharePoint, Teams, Microsoft Stream, or other apps and present them in a consolidated view, giving your staff the tools they need to be successful.
Create interactive experiences for your employees – Increase engagement among your workforce with a personalised feed for all company news and activity, with interactive dashboards and comment sections, allowing them to immerse themselves in the conversations taking place across your business.
Viva Topics
Viva Topics is an AI-powered solution that centralises and discovers content that matters most to your business. It automatically organises content across your business applications and shows you the information you need, without having to search for it.
How does it work?
Viva Topics uses AI to arrange content into unique topics. A topic is a phrase or term that has a specific meaning in your business. Topics in your business could be anything from products, to projects, services or processes.
As more people in your business contribute content, specific topics are developed. Viva Topics then compiles all the information it has on a topic, displaying a short description and any related people, sites, files, and pages. All of this occurs within the flow of your work in Microsoft 365 and Office sites and apps, eliminating the need to leave an application to find information.
What are the benefits of Viva Topics?
Allow your workforce to work smarter – By turning content into usable knowledge, your teams can quickly access the information they need without distraction from the task at hand and will spend less time recreating information that already exists.
Better oversight of knowledge that's important to your business – By having quick access to topics in your business, you can make informed business decisions. It might also assist when onboarding new staff who need to familiarise themselves with business processes, or when rolling out large changes that your workforce need to be aware of.
Viva Learning
Viva Learning makes learning and development opportunities easily available for your workforce. It provides access to engaging learning resources from various sources in Microsoft Teams, including Microsoft Learn and other third-party learning management systems, as well as your own organisation's learning content.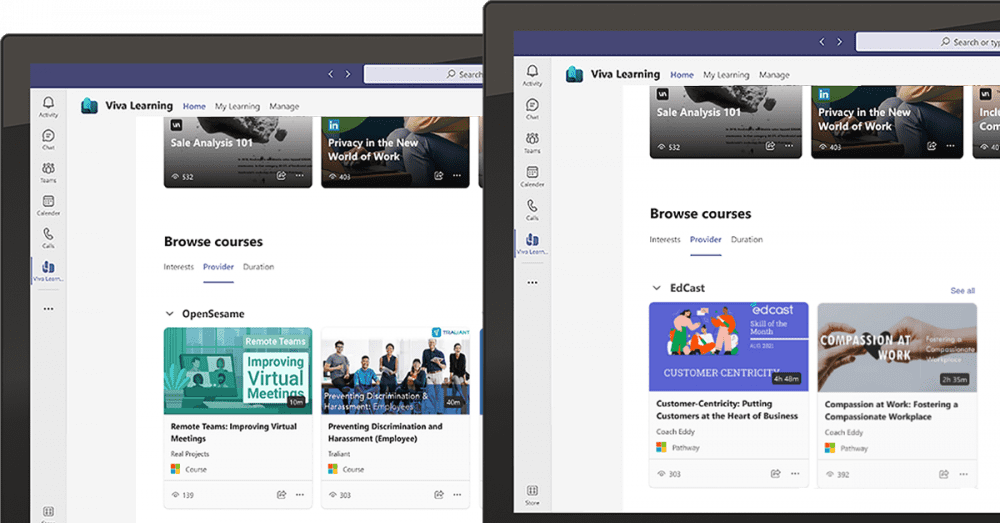 How does it work?
Say goodbye to countless learning apps, endless scrolling and tiresome searching for relevant learning resources. With Viva Learning, users will be able to select the topics that interest them and access training or educational resources in one click from the Viva Learning app, accessible within Microsoft Teams.
Viva Learning allows for the seamless sharing of resources across your network and allows your staff to add focused learning time to their calendar. With an ever-growing demand for new skills in businesses today, you can ensure your team are ahead of the curve. With Viva Learning, you can allocate relevant training and keep track of progress, ensuring you keep learning and development on the agenda at all times.
What are the benefits of Viva Learning?
Less time searching and more time learning – With intelligent search and tailored recommendations, your team can access the learning tools that are best suited to their roles and interests. Chat integration and the "Recommend" widget create an opportunity for social learning and sharing.
A space for personal development – Every member of your team wants to grow and improve. With Viva Learning, your staff can connect various learning management systems to help keep on top of personal development. Notifications and learning prompts will ensure that nothing gets in the way of individual growth.
Viva Insights
Viva Insights is your go-to when looking to improve productivity and focus on the welfare of your workforce. With help from data-driven, privacy-protected insights and recommendations, you can promote a more relaxed and happy team.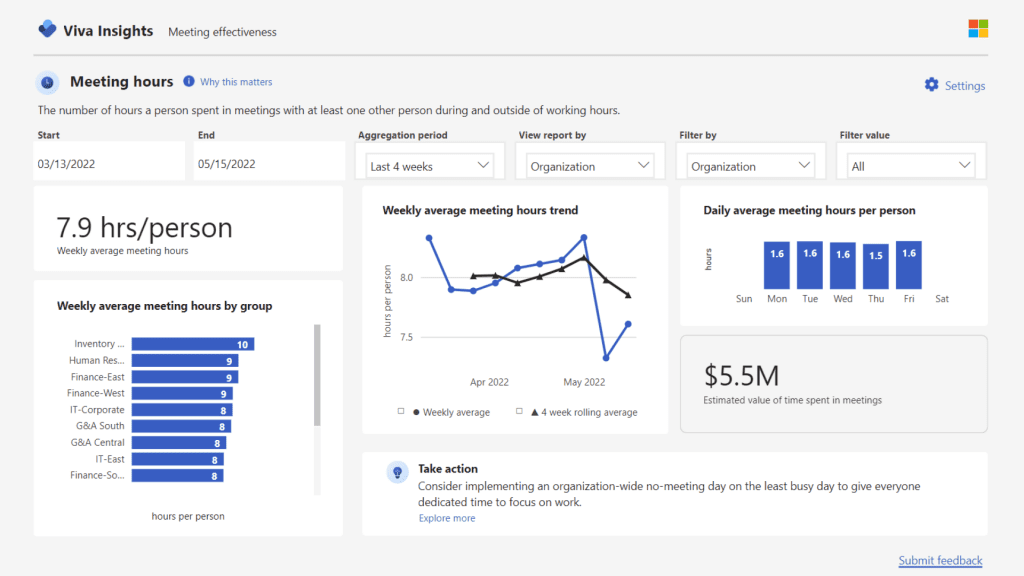 How does it work?
Similar to other tools in the Microsoft Viva family, Viva Insights is accessible within Teams. You can also receive daily briefing emails in Outlook from Viva Insights to help get off to a good start each day.
Personal insights include encouragement to schedule "focus-time", daily reminders of important meetings, and insights into working trends and behaviours (e.g. how many hours spent on calls each week).
The introduction of the managers and leaders insights functionality optionally empowers those in senior roles with information on the well-being, engagement, and efficiency of staff. Condensed views on whom they have had one-to-ones with and upcoming meetings give managers the chance to reflect and plan better for the week ahead.
What are the benefits of Viva Insights?
Get insights using rich data – With Viva Insights, you can generate valuable insights about your team using a library of flexible, pre-built reports. More advanced tools are also available, which allow users to generate custom insights tailored to specific business challenges.
Protection of personal information – With data, comes risk, which is why Viva Insights has built-in privacy safeguards. Insights are presented to managers with safeguards like de-identification and aggregation. There is also the choice for individual employees to decide which insights and experiences they receive, as well as control at admin-level that can alter or disable access as necessary.
Kick-start employee engagement with Microsoft Viva
If you'd like to learn more about Microsoft Viva, and the many solutions available as part of this employee engagement suite, we'd be happy to assist. As Microsoft experts, we support customers with Microsoft Viva and various other Microsoft 365 products within their businesses.
Get in touch today to speak to one of our friendly Microsoft experts!