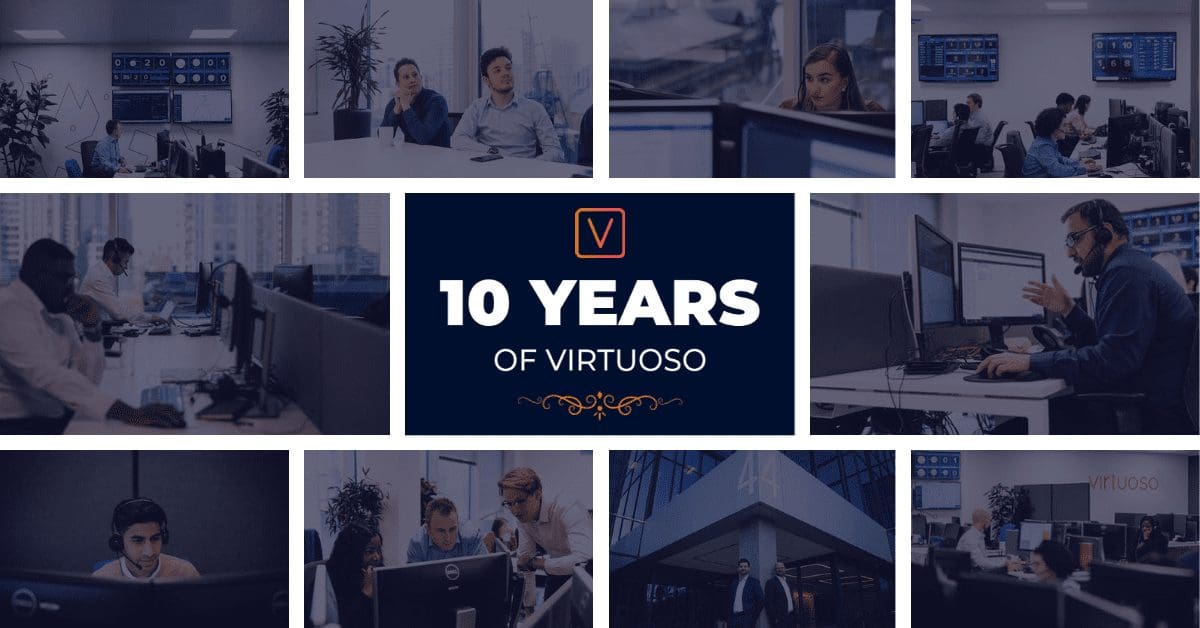 Today marks Virtuoso's 10 year anniversary, so we felt it only right to mark the occasion with a short reflection on the last decade!
Virtuoso was founded in 2011, by Markus McIver and Greg McCallum, on the vision of building a technology-driven business, strengthened by its culture and commitment to serving its customers. It was their goal to have a business that would bring large-scale IT solutions and enterprise-grade management to small and medium-sized businesses. They sought to provide customers with the same or better quality of services and support that large corporations achieve with dedicated in-house IT. Over ten years later, this ambition is still at the heart of everything we do.
By successfully combining technology, people and processes; we now have a team of passionate people delivering industry-leading technology through robust best practices and processes, every day. We have offices in the United Kingdom and New Zealand, allowing us to support ambitious global businesses with around-the-clock strategic and operational technology services.
"We strive every day to focus on our customers and the issues at hand, so sometimes it's important to take a moment to look at where we've come from and where we are. As we reach this 10 year milestone, I still feel like Virtuoso is in its infancy, with so much potential for growth and new levels of success. But looking back to our humble beginnings, I'm overwhelmed with gratitude.

Every hard-working employee, every patient customer, and every supportive partner has contributed to literally create something from nothing, to shape Virtuoso into what it is today, and what it's going to be in the future. So to all the people who have believed in this simple idea to make a bunch of customers genuinely happy with their business IT provider, thank you!"  Greg McCallum, CTO at Virtuoso
Our team are central to the success of our business. We remain committed to building a vibrant team who are passionate about delivering a range of managed and professional services. Ensuring they are the best version of themselves enables them to achieve more, as their individual achievements to become our shared success!
"I take great pride in the many accomplishments we've made over the last decade. The significance of this milestone for me is huge. We've been so fortunate to pull together such a talented group of people who have been so instrumental in our success. I've never been more optimistic about our future." Markus McIver, CEO at Virtuoso
We'd like to thank our incredible 
team
 for continually providing amazing 
technology services
and also, all our loyal and valued customers who have trusted us as their technology partner over the last 10 years. Whatever the future brings, Virtuoso will stay at the forefront of delivering technology innovation. With our intelligent approach to delivering amazing customer experiences and our dedication to building truly integrated partnerships, we see no limits in where our business can go and what we can provide to our customers.