We are huge fans of VR here at Virtuoso and are looking forward to seeing how Microsoft VR Development Kit will start being utilised within the workplace. The following is a post from Eric Vanderburg, who serves as the Vice President of Cybersecurity at TCDI and Vice Chairman of the board at TechMin. This originally appeared on the Dell Blog here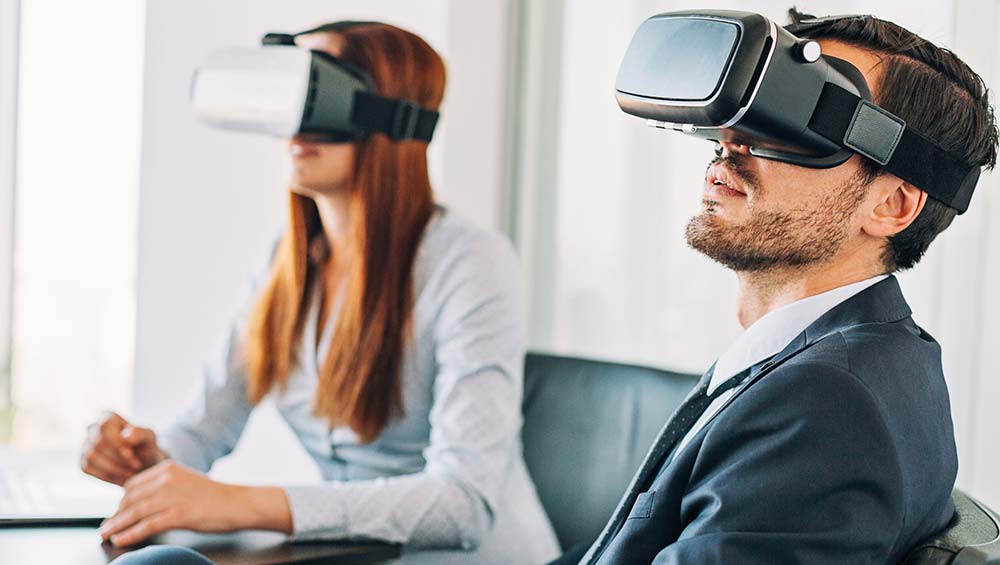 For decades Virtual Reality (VR) has tantalized our minds. We have an acute fascination for it since virtual reality offers us experiences no other technology can match. The implications for gaming and entertainment are quite obvious and have consumed much of the recent conversation on the subject. However, virtual reality goes far beyond gaming and media. VR is currently entering many homes but soon headsets like this one that appeared at CES 2017 will make its debut into workplaces, and already has in some instances. In fact, VR adoption in the workplace is expected to increase rapidly as the technology becomes more democratized. But what will this look like?
The End of the Conference Room
Workplaces can expand beyond physical boundaries to connect employees and customers with virtual reality. Employees may connect with each other in a virtual meeting space rather than over a conference call, eventually allowing for non-verbal communication interactive presentations or virtual collaboration from remote employees as if they were in the office together. This use case for VR is anticipated and highly valued. According to Dell's Future Workforce study data, 67 percent of millennials believe it is important to use virtual reality in meetings and product development.
Virtual Workspaces
Virtual reality allows employees to take their workspace with them much like they carry their applications and user interface customizations or virtual desktops with them now. A headset replaces the monitor and the surrounding workspace such as family photos, wall art, books and other items you would find in an office. This virtual office can be accessed just like a virtual desktop.
Virtual Prototyping
With VR, prototypes can be experienced, rather than just viewed. Employees can step inside a machine or walk through a building plan before a single part has been ordered. This helps companies create better products and avoid costly rework.
Virtual Training
VR can also be used for to create realistic virtual environments where skills can be put into practice. Training in VR allows people learning new tasks (students made me think of schools) to make mistakes without actually breaking something and the virtual environment can be reset quickly and easily so trainees can practice until skills are second nature. The immersive environment of VR allows for a deeper imprint on memory and caters to a different learning style that can better reinforce knowledge and improve recall.
VR and the Customer Experience
Virtual reality is also has tremendous opportunity for consumers to virtually try out goods before making a purchase. Currently, some real estate firms allow customers to virtual walk through a space. Construction is similarly undergoing changes with VR. Imagine walking through an office or home while it is still in the design stages, checking out the view from your next vacation rental, sitting behind the wheel of that new car, or virtually trying on clothing from an online retailer. The sports industry uses virtual reality to replay events in previous games or train on certain maneuvers. This is some of what VR is offering the enterprise.
Roadmap to VR success
Dell's workforce study showed that employees, especially millennials, expect to be working in a smart office in the near future and many do not consider their current office smart enough. Virtual reality in the enterprise is a way to attract the best talent and to make them more productive. VR also enables companies to establish better relationships with their customers. So how do companies prepare now to utilize this technology?
Businesses need to be able to create VR content for their employees and customers, so they must have the equipment and training to make their ideas a reality. Dell is one company that has stepped in to meet this challenge by providing the tools for VR content creation and an environment where innovation and collaboration can take place. In an interview with Liam Quinn, CTO at Dell, he explained how Dell has established a VR center for excellence where companies work with VR technologies, collaborate and innovate solutions. Dell also provides VR content creation tools with its Precision workstation series that is equipped with hardware capable of creating VR applications.
It is not too early to start thinking about how VR will fit into your enterprise. Connect with the VR community, exchange ideas, and equip your workforce with the tools to seize these opportunities. Are you ready to take your company into VR?