How could Microsoft Teams prevent COVID-19? Read more to find out…
For the best part of 2020, most businesses have embraced a remote work-style and it's unarguable that many have seen the benefits it has brought to business. By saying goodbye to the hectic environment of the office, work has been streamlined, meetings have been more focused and businesses have experienced an influx of productivity as employees have proven themselves as reliable, even when out-of-sight!
With Boris's announcement about the reopening of more businesses on 1st August, many are feeling unnerved about a potential shift back to normality. How can we revert to such busy working environments, whilst still adhering to social distancing guidelines?
Countless businesses will never completely return to the old 9-5 Monday-Friday work model. Why should they? When there is endless cloud technology available to provide employees with a safer and more flexible work-life.
As well as the benefits to the welfare of working individuals, cloud technology also provides opportunities for us to further prevent the spread of COVID-19.
Microsoft Teams, a hugely popular collaborative platform which has been a saviour to many businesses during lockdown, is a prime example of a cloud tool that could be seen to help with the battle against COVID-19. Virtual meetings and conferencing abilities, seamless project collaboration and instant messaging functions are just a few of the reasons Microsoft Teams has thrived during lockdown, allowing "business as usual".
However, now we are seeing new advanced features launching, which not only provide businesses with the tools to continue remote working, but also technology that supports those who need to return to the office…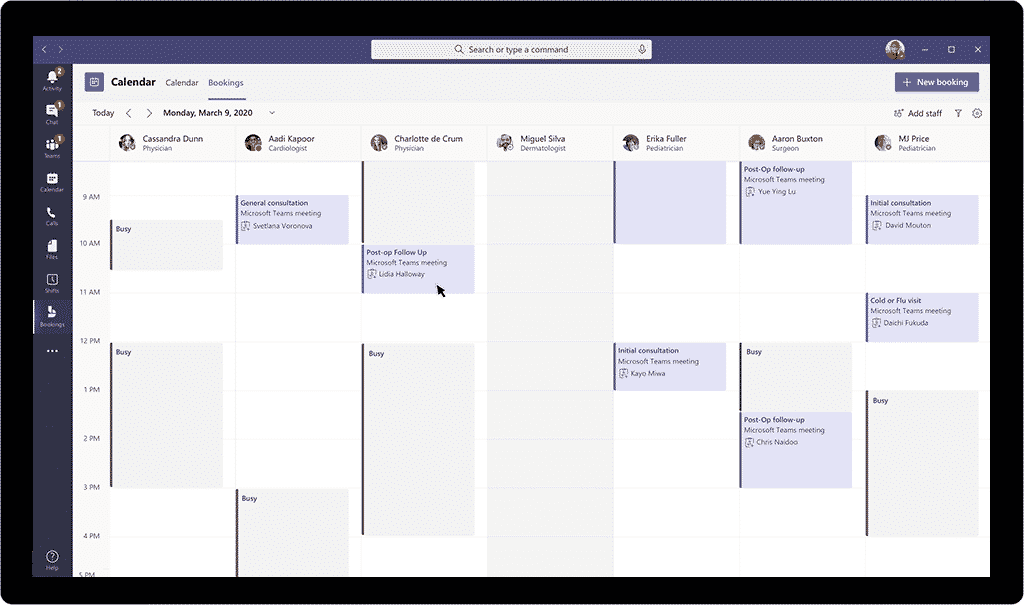 Cross-device integration
Maintaining the sanitation of shared work-spaces and computers as a result of COVID-19 has proved tricky, which is why many businesses are now encouraging BYOD (bring your own device) environments at work.
There are many benefits to employees using their own personal or assigned devices for work, instead of sharing communal devices. Particularly for employees who will be regularly switching from an office to a home environment.
But how can you ensure work can continue uninterrupted with staff hopping between mobiles, tablets, laptops and PCs?
When using Microsoft Teams as your business communication tool, the platform will be available and responsive on all devices. As well as that, it now enables seamless cross-device interaction. This means you can switch between where you view all your favourite Teams features depending on your preferred device. You can easily lock and unlock any devices from your connected PC, giving an extra layer of security when working across multiple platforms.
Easily share work between screens by opening Microsoft Teams on your tablet and expanding to your desktop when you need a more detailed view. Access files, read messages and join meetings from any device, with all features switching between devices instantly, providing you with an effortless modern workspace.
"Microsoft Teams displays help you stay on top of your busy work with always-on displays highlighting important activities and notifications and removing distractions from your primary work device." Microsoft Teams, 2020
It's clear to see how working from multiple or personal devices is easier than ever. With Microsoft Teams, your employees can embrace remote work styles without the burden of technical difficulties.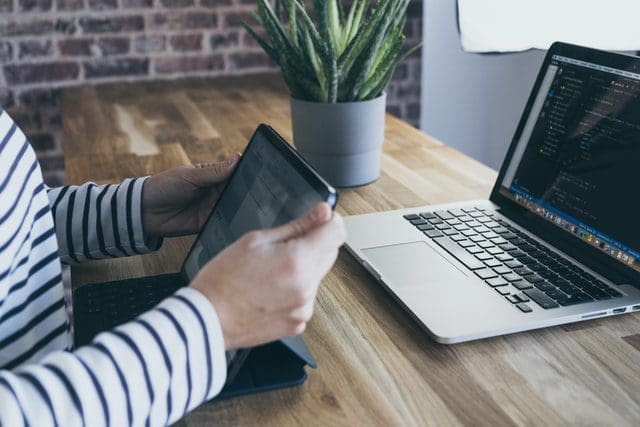 Touchless work environments
If there's one thing we've learned as a community in light of the recent pandemic, it's that unfortunately germs are everywhere. And keeping them under control is tricky.
When thinking about the workplace, it's become apparent that offices are breeding grounds for bacteria, which is why many businesses are struggling to cover all the bases when it comes to sanitation. With so many people coming in and out of offices, sharing meeting spaces and devices, there's a lot to consider.
Wouldn't it be great to have touchless work environments, where individuals could work together in the same space without spreading unwanted viruses?
With Microsoft Teams, this is an option.
"Today, people in the meeting room can join a Teams meeting from their Microsoft Teams Room and collaboration bar devices, share content and collaborate using their personal PC or mobile device, all without ever having to touch the shared device display." Microsoft Teams, 2020
Thanks to the powerful collaboration of Microsoft Teams and Cortana, voice assistance allows users to speak in their natural language to Cortana with requests such as "Join the meeting" or "Present the quarterly review".
In an effort to reduce busy meeting environments, Microsoft Teams' new "room remote experience" employees will be able to perform a whole number of tasks, including managing volume control, turning cameras on or off, adding participants to meetings, hosting presentations, checking calendar updates and so much more – without ever having to touch a device.
We think this intelligent solution could be the future for businesses – as it enables us to continue working in offices, while preventing the spread of dangerous viruses.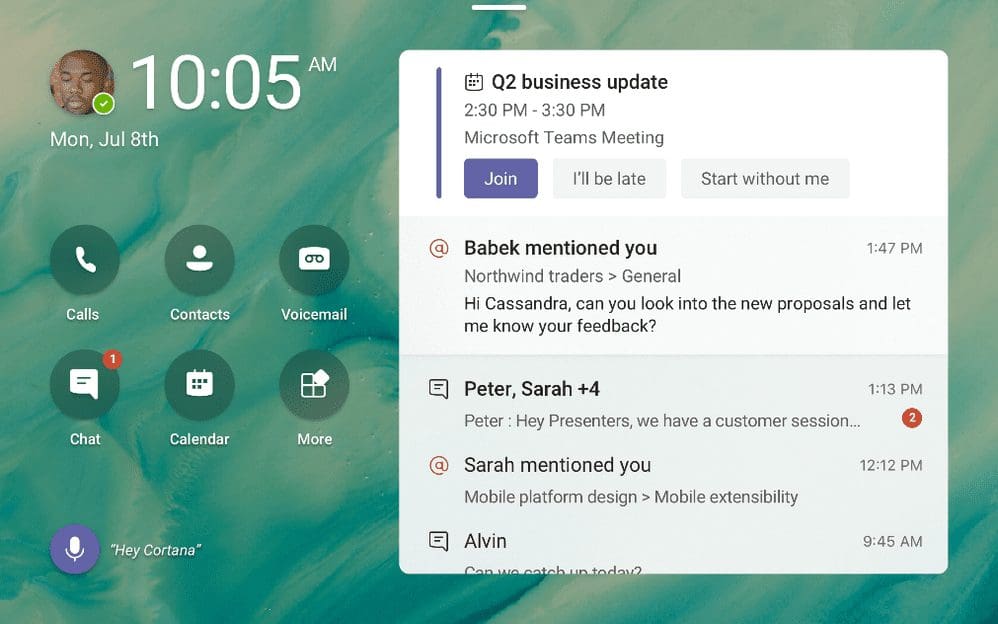 Track & track using Power Apps
We can't discuss Microsoft's contribution to battling COVID-19 without mentioning the recent announcement of the Power Apps template, that was designed in just 48 hours!
This clever platform combines Power Apps, Power Automate, Microsoft Teams and SharePoint to allow businesses to rapidly and effectively communicate with their business about any COVID-19 crises.
The application allows employees to report where they are working, whether that's at home or in the office and make requests via the platform. This information can then be used by management to coordinate any actions necessary.
Businesses using this application will realise how instrumental it will be with providing invaluable "track and trace" information on staff – as they will be able to responsibly monitor those who are back in the workplace and accurately determine who could have been exposed to infected individuals, should that situation occur.
The apps push notifications feature will further allow businesses to instantly update employees with information from groups like the World Health Organisation or local government. Emergency contacts for specific locations will also be provided, meaning businesses are always prepared for the worst.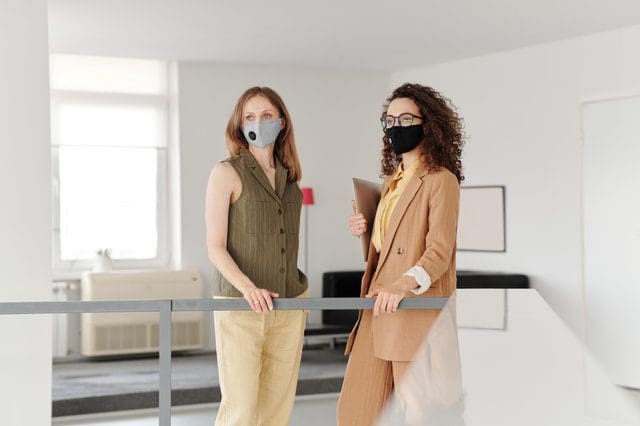 Integrate Microsoft Teams into your business today
It's undeniable that Microsoft is paving the way to a safer and more advanced way of working.
By providing platforms like Microsoft Teams that enable remote working and advanced solutions to office-environment challenges, it's no wonder so many businesses are keen to implement this technology into their business. And now, with track and trace apps being supported by Microsoft, businesses can begin taking proper measures to protect their staff from COVID-19.
Wondering how Microsoft might benefit your business?
As a Microsoft Gold Partner, many of our engineers are Microsoft-certified and therefore experienced in helping businesses to begin their journey with the cloud.