Microsoft products are globally recognised as business essentials. It's hard to imagine how we ever operated without them.
There's not a company in the world that hasn't relied on Excel, Word or Outlook to keep day-to-day operations in order.
More recently, there have been a growing number of businesses that have benefitted from collaborative platforms like Microsoft Teams and OneDrive, bringing people together from all areas of the world, so business can continue as normal.
Microsoft 365 tools have enabled businesses across the globe to build a more modern workplace.
But for a brand that's so close to all our hearts, not everyone is clued up on recent changes that will impact the way we all work with Microsoft…
The old Microsoft 365
Up until a couple of weeks ago, there were two main options available for businesses using Microsoft products.
Office 365
Over 38 million people subscribe to Office 365, a hugely powerful cloud-based suite of tools including, Word, Excel, PowerPoint, Outlook, OneNote, and OneDrive apps. These tools are designed to bring all aspects of business together, in an organised and seamless way.
Conditional to the plan you purchased, you would also receive subscriptions for other apps, such as SharePoint, Teams, Planner, Skype for Business and much more.
These subscriptions were charges monthly, on a per-user basis and varied largely on individual business needs.
Microsoft 365
Here's where things used to get a bit more complex. Microsoft 365 offered a whole bundle of services, that encompassed the aforementioned Office 365, but extended to include Windows 10 Enterprise, Enterprise Mobility + Security (EMS), and machine learning.
With Microsoft being notoriously flexible, this package also allowed for multiple payment plans and additional services and individual license purchasing, suiting a wide range of businesses we see today.

A change in branding – the new Microsoft 365
As you can see, before recently, there were plenty of differences between Microsoft 365 and Office 365. But as of 21st April 2020, the two came together under the one Microsoft 365 brand.
This evolution meant that Office 365 is now Microsoft 365, while maintaining the foundations of cloud-powered tools and content, but using new artificial intelligence (AI) to provide users with a fuller, more rounded experience of these products.
The Office 365 we all know and love is still in existence and rest assured pricing has not been modified, but we can expect to see new apps and upgrades that should further enhance the way we work with Microsoft tools.
New Microsoft products and names
Microsoft recently announced the following new names for the products we all use everyday in business, and they are as follows:
Office 365 Business Essentials will now become Microsoft 365 Business Basic.
Office 365 Business Premium will now become Microsoft 365 Business Standard.
Microsoft 365 Business will now become Microsoft 365 Business Premium.
Office 365 Business and Office 365 ProPlus will both now become Microsoft 365 Apps.
Office 365 for Enterprise will remain the same.
In addition to the new names, we can also expect the following new apps and developments, which we think will bring a lot of excitement:
Microsoft Family Safety – a security app, which keeps all members of the family safe when roaming the digital world, with content filters, screen time limits and activity reporting features.
Microsoft Teams – expect to see new features that will further improve how we connect and collaborate while working remotely, with announcements coming into play when new members join a meeting, Channel analytics, and more faces available on one video screen than ever before.
Microsoft Editor – an AI powered service, available in over 20 languages which will help users when writing, with advanced spelling and grammar checks, plagiarism-checking and linguistic suggestions for when the right words just won't come.
Microsoft PowerPoint – an AI Presenter Coach will now be available to review your presentation skills, listening for monotone pitch, grammatical hitches and even speed or hesitation, making "umming and ahhing" a thing of the past.
Microsoft Excel – a new Money feature in Excel will connect to your bank and credit card accounts, allowing you to import transactions and automatically improve your spending habits, by providing personalised insights on your spending.
Microsoft Outlook – have your emails read aloud to you with the new "Play My Emails" feature and link your personal calendars with your work calendars, so you're always on top of what's scheduled.
We suspect that there will be many more surprises from the new Microsoft 365, that will make the way we create, share, connect, and collaborate with friends and family even richer.
Want more info on how your business can benefit from the new Microsoft 365?
As a Microsoft Gold Partner, we pride ourselves in our ability to integrate these intelligent cloud-based tools effortlessly into businesses of all types.
If you'd like to hear more, get in touch today to speak with one of our Microsoft Experts, who can identify how we can help your business harness technology.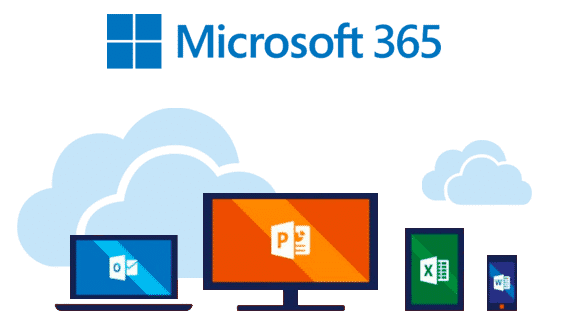 Images courtesy of Microsoft