2020 has undoubtedly been a year of adjustment.
It's been out with the old traditional workstyles of 9-5 corporate office workers and in with the new remote workstyles of video calls and meetings in your slippers.
Whilst some have enjoyed this transition to a more relaxed working life, others have struggled. We can all admit that things are a bit quieter without the buzz of a busy office or coffee shop meetings with business partners. Some people can find it more challenging to feel inspired and excited about work whilst sat at home.
But with the state of the current world forcing us to accept this new working life, we must learn to adapt.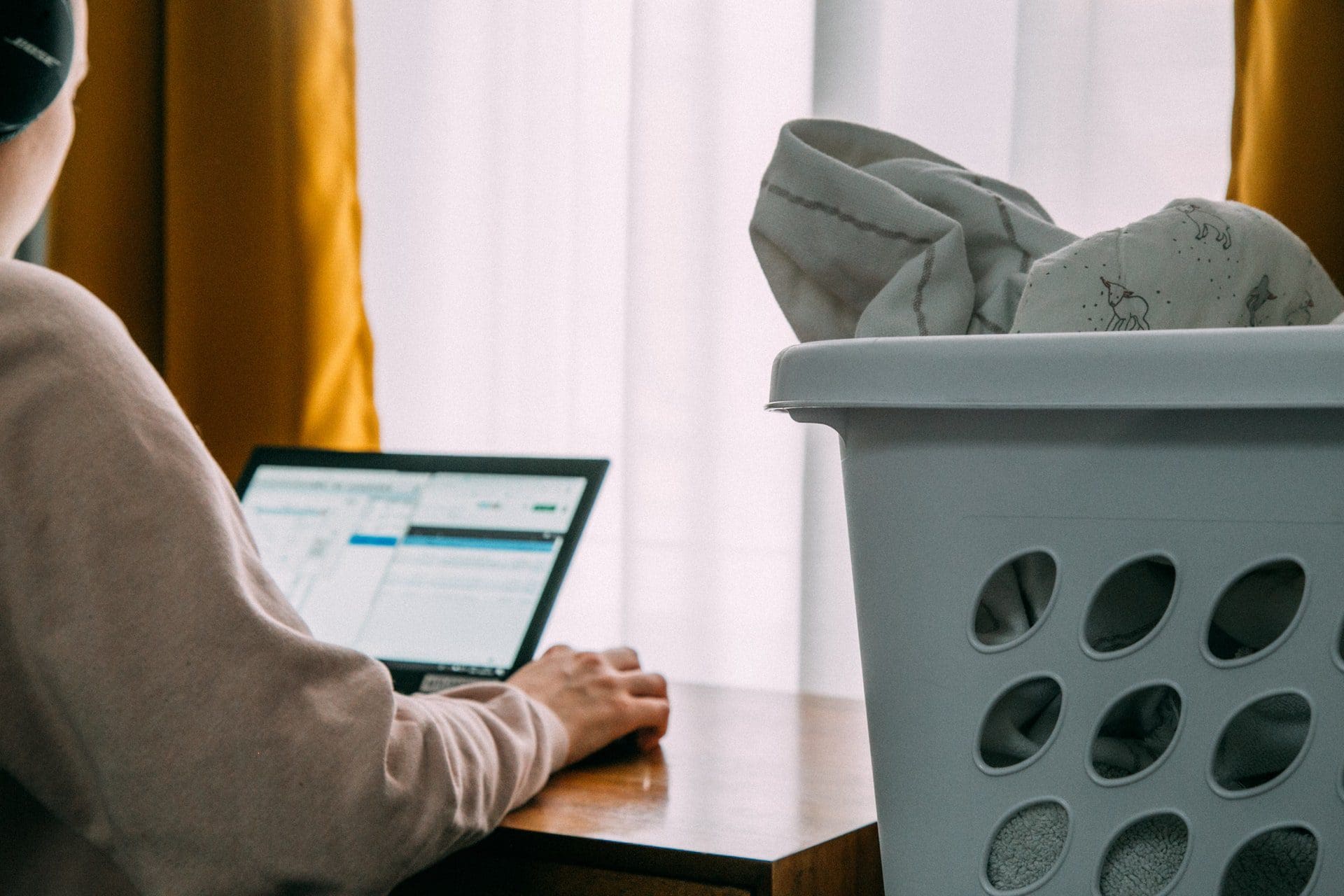 Thankfully, Microsoft has been there to support us through this unexpected shift to virtual working, with applications like Teams enabling businesses across the globe to continue as though still in the office.
But it's one thing continuing working and another thing enjoying working.
With the end of lockdown out-of-sight, businesses are now looking at how they can boost company morale to keep employees' enthusiasm levels high and improve productivity whilst working remotely.
We're here to share how your business can boost company morale using Microsoft Teams and some of the new features that will be coming soon that could support employee wellbeing while remote working…
Reimagine virtual meetings
If you're not using Microsoft Teams already, then you'll most definitely have heard of it. Its growth in use and popularity soared when lockdown measures began, with its video conferencing and file-sharing abilities providing businesses with a secure and reliable platform for communicating with staff.
However, Teams has now expanded way beyond its original capabilities. It has become a hybrid virtual experience for its users, with developments like Teams Rooms transforming meeting structures and live events of up to 20,000 attendees (from January 2021) making the possibilities for businesses endless.
It's apparent that Teams' functionalities have surpassed just supporting businesses to deliver work, as features are now being revealed that can only be recognised for fulfilling emotional needs.
Take the new Together mode as an example. This feature is being rolled out by Microsoft this year and will allow users to ditch the formal grid layout of video calls and create scenes in auditoriums, conference rooms and even coffee shops! This virtual experience will enable Teams users to select a scene from the gallery and make it default for all attendees.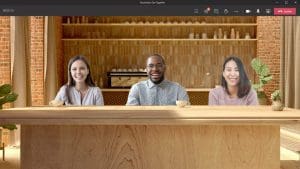 You can imagine how this could boost company morale for your business. Not only will it create a few laughs, but the machine learning abilities in Together mode will also enable your employees to sit together (virtually, of course) and create a more realistic experience of a meeting, combating feelings of seclusion and helping workforces feel more connected.
Support employee wellbeing
If there's anything we can take from the current pandemic, it's that nothing is more important than our health. Unfortunately as remote workstyles increase, so does overtime. Many of us can relate to a loss of a sense in time whilst working from home.
When in the office, your days are typically more structured by lunch slots and catching the train home. However, when working remotely you can easily find yourself working through lunch breaks and late into the evening.
A recent Work Trend Index study by Microsoft researched the wellbeing of those remote working and found that "one-third of remote workers said the lack of separation between work and life is negatively impacting their wellbeing." These participants revealed feeling more "burned-out" from work as they struggled to separate work life from actual life.
"Studies from our Microsoft Research group help us understand how our once-dreaded commute actually helped maintain work-life boundaries—and our productivity and wellbeing along with them." Microsoft, 2020
Luckily for us, Microsoft is on the case. Microsoft has learned that you will get the most from your employees if they are happy and rested. This explains their recent announcement of their partnership with Headspace, which will bring a variety of science-backed mindfulness experiences and meditations right into the Teams platforms.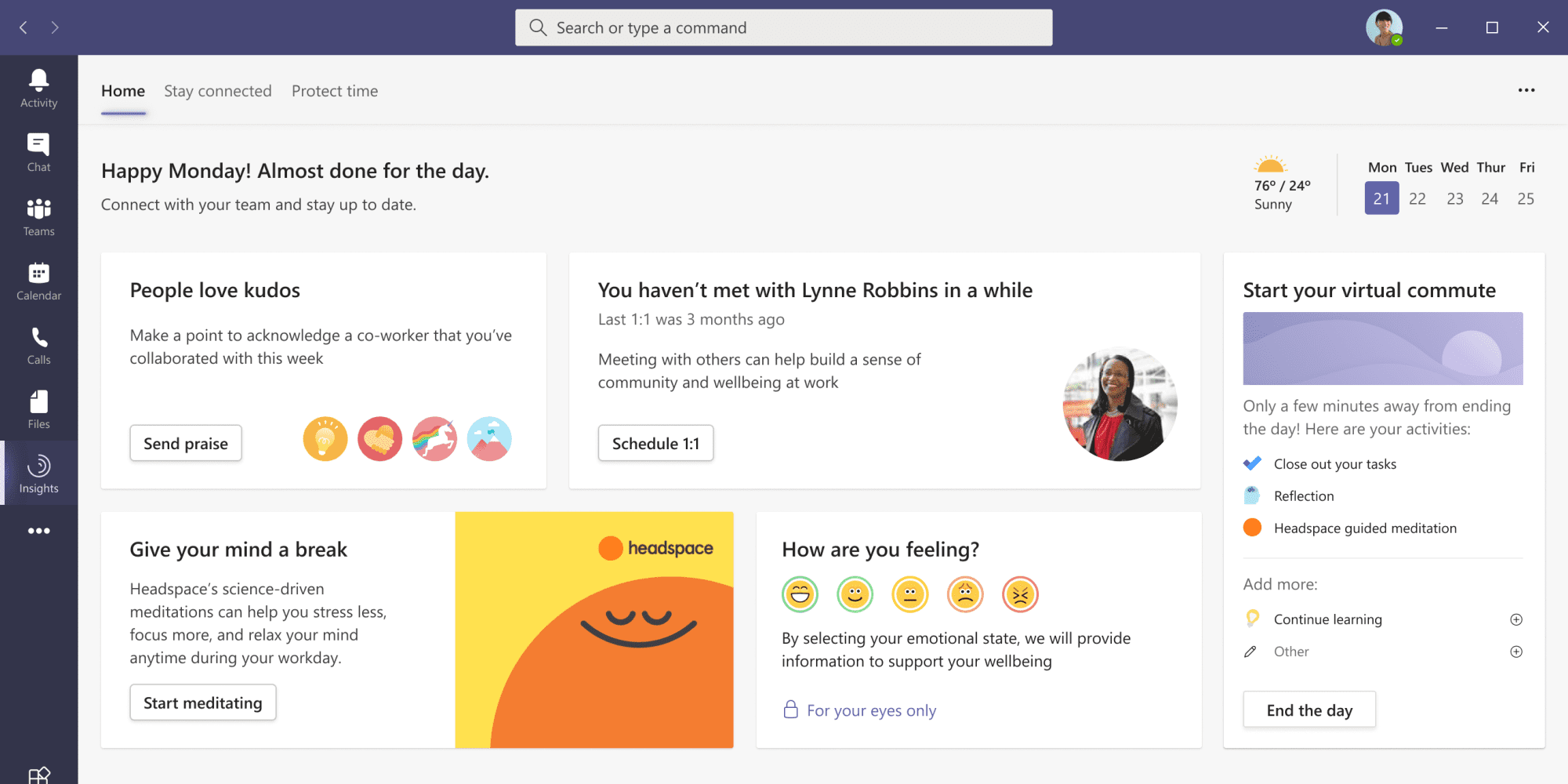 These resources can be harnessed by businesses like yours to support remote workers in de-stressing and recovering from strenuous workdays. The primary purpose of these tools are to boost wellbeing and morale in organisations, but will undoubtedly improve focus and productivity for businesses too.
Actionable insights
When in the office, senior members of staff and managers can oversee activities and respond accordingly. However, when working remotely it becomes more difficult for management to resolve problems and monitor the progress of projects.
This can result in management feeling exhausted by what would usually be straightforward tasks and can encourage unproductivity amongst staff.
Microsoft's Workplace Analytics in Teams is launching this month and will help to solve this for businesses like yours. Management will have access to data from across the Microsoft 365 suite and will be provided with a dynamic view of collaboration patterns on an easy-to-understand dashboard within Teams.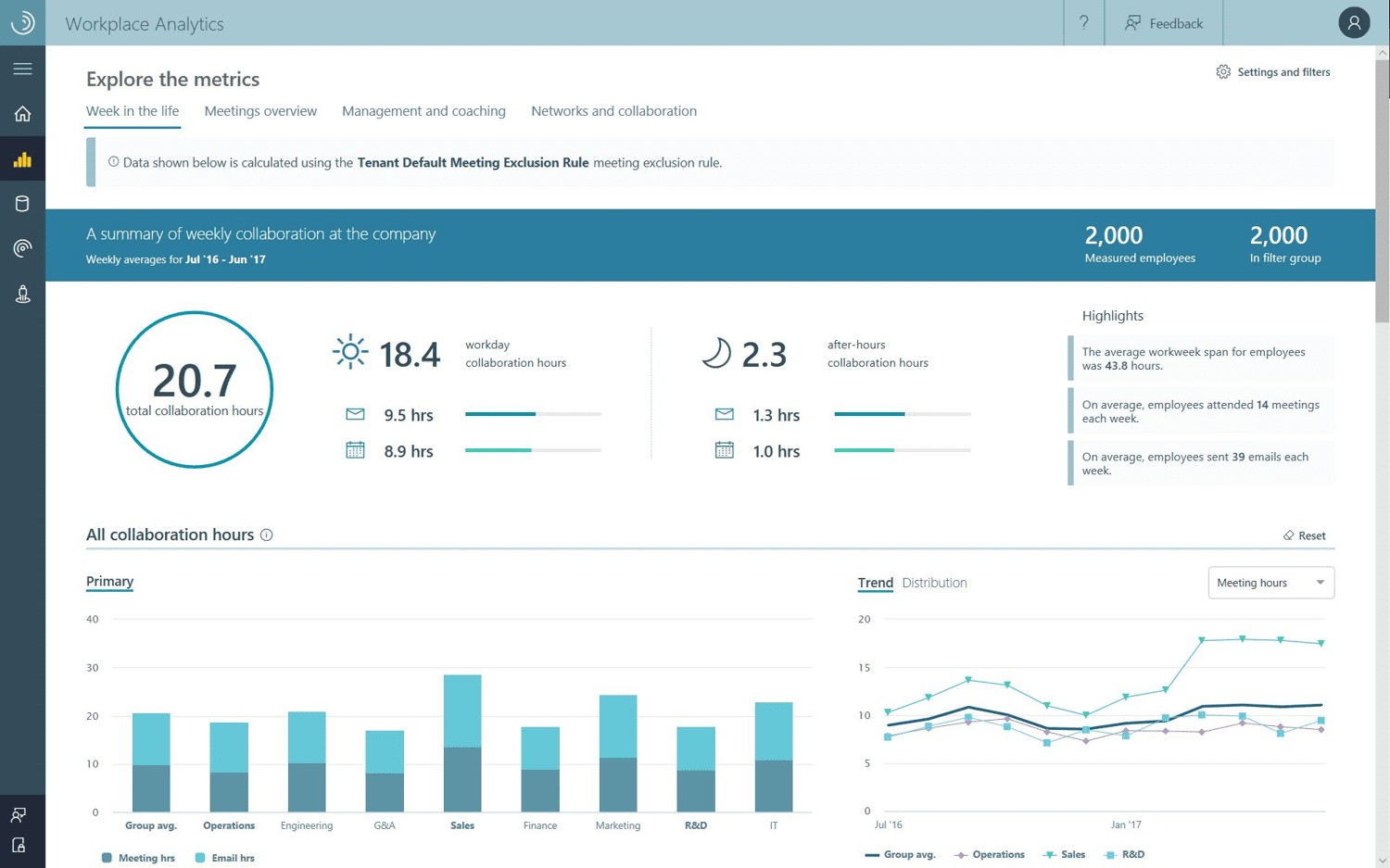 Metrics provided will enlighten managers to meeting and collaboration behaviours, allowing them to address any wasteful cultures developing as a result of remote workstyles. They will be able to use this insightful data to create new leadership initiatives and drive cultural transformations across the business.
Management will receive weekly report summaries with indications of employee wellbeing. Crucial questions such as "are our staff working too much overtime?", "are company relationships being maintained?" and "are our staff remaining productive?" will all be answered with actionable insights.
Your business could leverage these new features to measure change across the business and closely monitor the happiness and wellbeing of staff.
Get Teams for your business
This article touches on just a few of the many features within Teams that can boost company morale and productivity whilst your business is operating remotely.
Microsoft Teams is one of the largest growing platforms in the Microsoft 365 suite and is being harnessed by more and more businesses every day.
If you think your business would benefit from some of the features Teams offers, we can help.
As a Microsoft Gold Partner, we've migrated thousands of users to Teams and have helped businesses reach their full potential by doing so.