Working from home has revealed major flaws in many businesses IT setups. The use of outdated technology, unsecured security systems and unfriendly platforms have forced many companies to think more about how they manage IT and what can be improved.
Businesses, like yours, may have been juggling these technical hurdles themselves.
Perhaps you too have had to handle technical problems during lockdown, as a result of an overworked IT department or an under-performing existing IT partner.
Finding a new IT support company for your business can be a bit like dating. You'll definitely meet some unusual people before you find your perfect match. And just as when you're dating, it's likely that you'll find yourself asking a lot of questions. After all, you don't want to get stuck with someone who promises you the earth but fails to deliver!
So how do you feel about asking those awkward questions early on, before you make a commitment?
It's really important that you find out a lot more than just how much their services cost and what capabilities they have. Especially while we're working in unusual circumstances, you need to ensure you are partnering with a support provider who cares about your business.
But what are the right questions to ask that will tell you the most about your new potential IT support company? And how will their answers help you to determine if you're a good match?
Here are what we believe to be the top five questions to ask when considering a new IT support provider…
1. Who will be responsible for looking after my business, day-to-day?
It's all well and good being told you will have "ongoing support", but what you need to determine is who will be providing that support on a day-to-day basis.
It's vital that you have consistency from your IT support provider. Ideally, you will speak to the same person or small group of people each time, who know your history and the details of your IT setup. We all know how frustrating it can be when you have a problem and have to go over (and over) the background information, with various contacts, before you begin a resolution.
If your IT support company does assign a dedicated account manager to each client, how do they assign them? Will they match their skills with your needs? Do they judge who will be the best personality-match for your business? Or is it just decided on who has the lowest workload?
You want to ensure your account manager is someone that you feel comfortable contacting in times of emergency. And even more importantly, that they are someone you trust to get the job done.
What experience does your account manager have? It's brilliant that they are up to date on the latest devices, malware and software protection, but what about if you are running on an older system? Will they be able to help when problems occur with that too?
At Virtuoso, we assign all customers with a dedicated account manager who will be available every day to support with any IT-related business queries. Experienced in both cloud and legacy systems, your account manager works side-by-side with our technical specialists, to ensure your business is delivered the right solution, every time.
Another consideration is if this account manager will work closely with your on-site engineer. You want to ensure that whoever is working with you regularly is in close communication with those actually delivering the changes so that no issues arise in the future.
And what precautions are they taking when it comes to onsite visits? Do they have a new protocol for wearing PPE to protect themselves and your employees? Are they ensuring they leave anything they've worked on clean and sanitised? What about helping out those employees who are shielding, or living with someone who is? Is there a process for keeping them safe if they need to work on their device?
Unfortunately, these are now all vital questions in this area of business that you might feel you want answers to before deciding on who to work with.
2. What kind of businesses do you typically work with?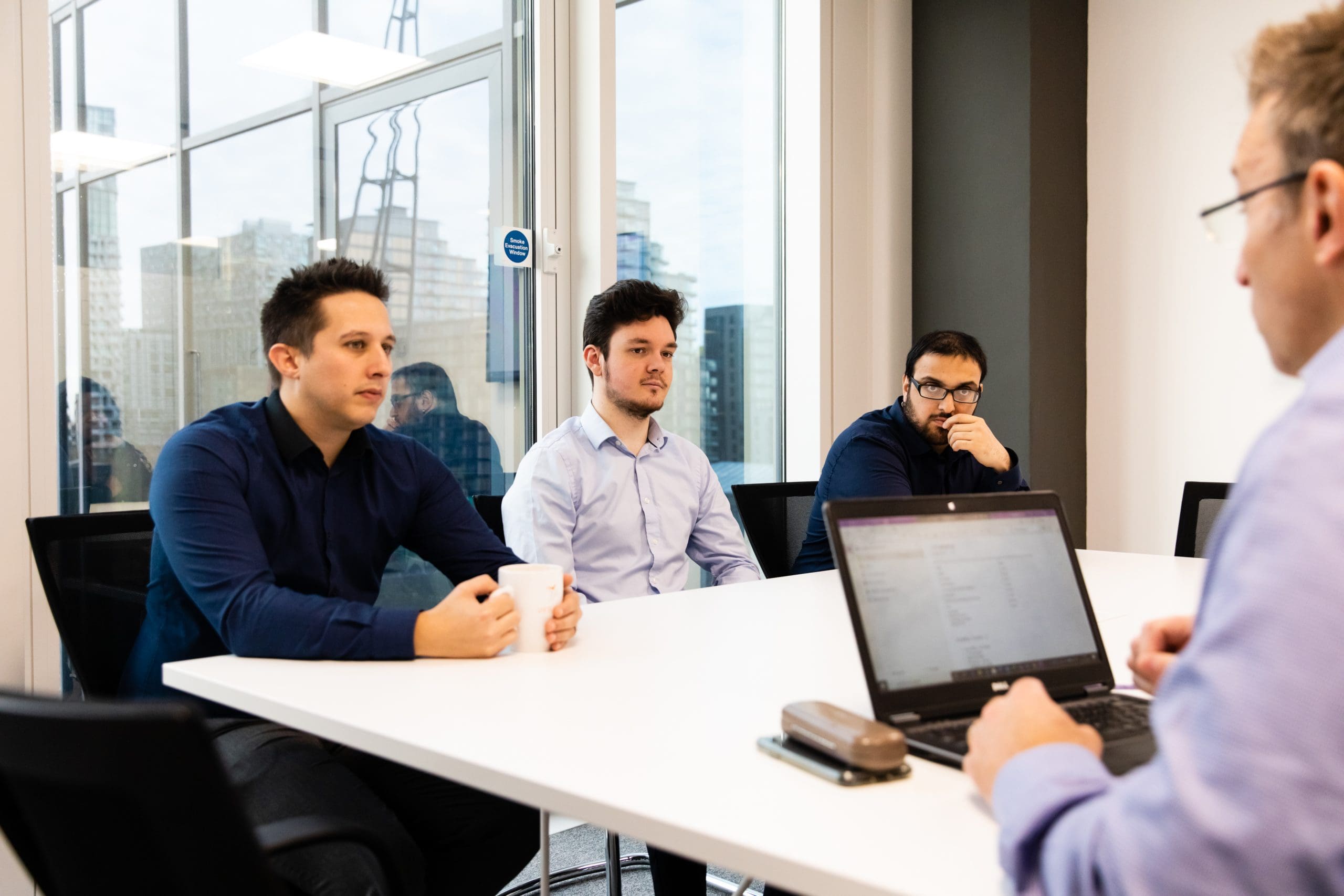 We all see red flags when reading up on a support provider that claims to work with "everyone". Businesses vary dramatically, from size to industry, so it screams untrustworthy when an IT support provider categorises all businesses in one bracket.
While an IT support company may work across many sectors, it's important to find out where the bulk of their business falls.
If they're used to working with large organisations, how do they adapt to a smaller business? Do their solutions differ depending on need or will they recommend the same devices and software to everyone?
Likewise, if they're used to dealing with small businesses, how will they cope if your business grows?
You need to find an IT support provider that can adapt and grow, at the same speed your business does. The technology they recommend must be diverse and scalable, to support any dramatic changes your business may face.
At Virtuoso, we specialise in supporting London-based SMEs, within professional (consultancy, legal, financial and recruitment), healthcare and property industries. We pride ourselves in knowing the ins and outs of these sectors and tailor all our IT services to our customers' individuals requirements. As Microsoft Cloud experts, we are able to provide solutions to our customers that make your business more agile and innovative, by reducing operating costs and risks while improving efficiencies.
Once you have delved into these questions, you will have a better understanding of an IT support company's previous experience within your business sector and how they might handle working with you.
3. What's your customer retention rate?  
In the world of IT support, customer retention should be high. If an IT support company delivers on promises, is easy to communicate with, and charges a fair price, a customer is unlikely to leave them for someone else. It's simply too much hassle if they're happy with the service.
If their retention rate isn't high, why not? Can they give you a reasonable explanation?
It's a good idea to look at the figures from before lockdown. It's likely that some IT support companies may have seen a small drop in clients over recent months due to changes in the economy.
A great way to check on this is client case studies and Google reviews. Who better to hear from than their existing customers?
At Virtuoso, we are thrilled to announce retaining a Net Promoter Score of 70. This means that our customers report being extremely happy with our services. We regularly check in with our clients to hear their thoughts and find ways we can improve. To read more reviews, check out our customer stories or Google reviews.
Once you have done your research, you should feel that your prospective IT service provider has sufficient evidence of great customer service, to back-up their claims.
4. Do you fix problems or anticipate them?
It used to be the case that businesses would wait until there was a problem before getting in touch with their IT support company. That meant that staff would be held up while problems were solved, leading to a loss of productivity and money.
Today, we realise that prevention is better than cure. So where possible, your IT setup should be built to prevent the risk of a disaster happening within your network.
At Virtuoso, we aim to solve problems before they even arise. Our best-in-class IT architecture consulting services will work with you to define your business and technical requirements and design the most appropriate solution. Our in-house team of vendor-certified systems engineers work on technically complex, high-profile projects on a daily basis giving our customers confidence that requirements will be delivered right the first time and that will be risks spotted on the horizon, before they have a chance to reach your business.
Of course, you must be aware that as technology advances and grows at a rapid pace, as do the risks posed to our businesses, so ensuring your business is protected 100% of the time is a tough promise to make. But working with an IT support provider that recognises these risks from the get-go is an encouraging first step.
5. How clued up are you on cyber security?
In today's complex technical landscape, our businesses face an increasing rate of cyber security risks. Emerging technology trends are transforming the role of IT from a support function to that of a security risk assessor.
It's crucial to ask about security when considering a new technology partner. 99.9% of all work we do within our businesses is on computers. Confidential data belonging to our employees and customers is stored online. Private files, contracts, billing information and personal credentials are all kept in digital files. Keeping this safe should be a top priority.
But how can this be achieved if your IT support provider turns a blind eye when it comes to cyber security? It can't. One mistake, one unsecured platform, one phishing email, one dubious link, is all it can take to bring a company to its knees.
So when engaging with IT support providers, quiz them on their knowledge around security. How secure is the technology they recommend? Which security procedures do they claim expert on? How will they keep your company safe, while integrating new technology into the business?
At Virtuoso, we have an entire team of cyber security experts, who will work day and night to protect your business from cyber security threats. Our advanced and comprehensive cyber security services support your business in various ways, from endpoint threat detection to cloud email security, content and internet filtering. We can do it all. On top of that, we go that extra mile by providing your staff with regular training around how to spot cyber security threats and how to respond to them properly.
Pick the right partner
It really is worth asking the right questions to find the IT support company that fits best with your business. Would you really be comfortable entrusting your most valuable assets (your productivity, staff happiness, and data) with a company that leaves you with unanswered questions or concerns?
Make sure you're happy with the responses you receive, and the proposed plan of action for your business.
If you're in the market for a new IT support service, we'd love to hear from you – as we are not afraid to answer those awkward questions!