While we are still living in very uncertain times, it seems the world is trying to slowly introduce normality, with many of us expecting to return to the office in upcoming months.
We are here to provide you with the top 10 things to consider about your IT setup when returning to the office and how we can provide technical support to ensure the transition is as smooth as possible for your business and employees.
1. Access data from any device
If your employees have been working from personal devices during lockdown, you must ensure that vital files created over the past few months are accessible when returning to desktop computers.
By utilising Microsoft 365, your business can store all data in the cloud. With over 1 TB of storage, you can ensure that all files are accessible from any device, at any time. Files are synchronised offline and available without an internet connection, meaning your team can rest assured that important documents are safe and ready to be reopened in the office environment.
2. Support socially-distanced collaboration
Government guidelines for office-based business operations strongly suggest keeping individuals in close-knit teams, to reduce the number of individuals a person comes into contact with. But this could be difficult if projects require input from various departments.
When using Microsoft Teams, you open up a free space for communication for those across all teams in the business, supporting collaboration on large projects. Chats enable team members to quickly resolve issues, while Teams provide an organised space for all files and conversations regarding projects to be shared.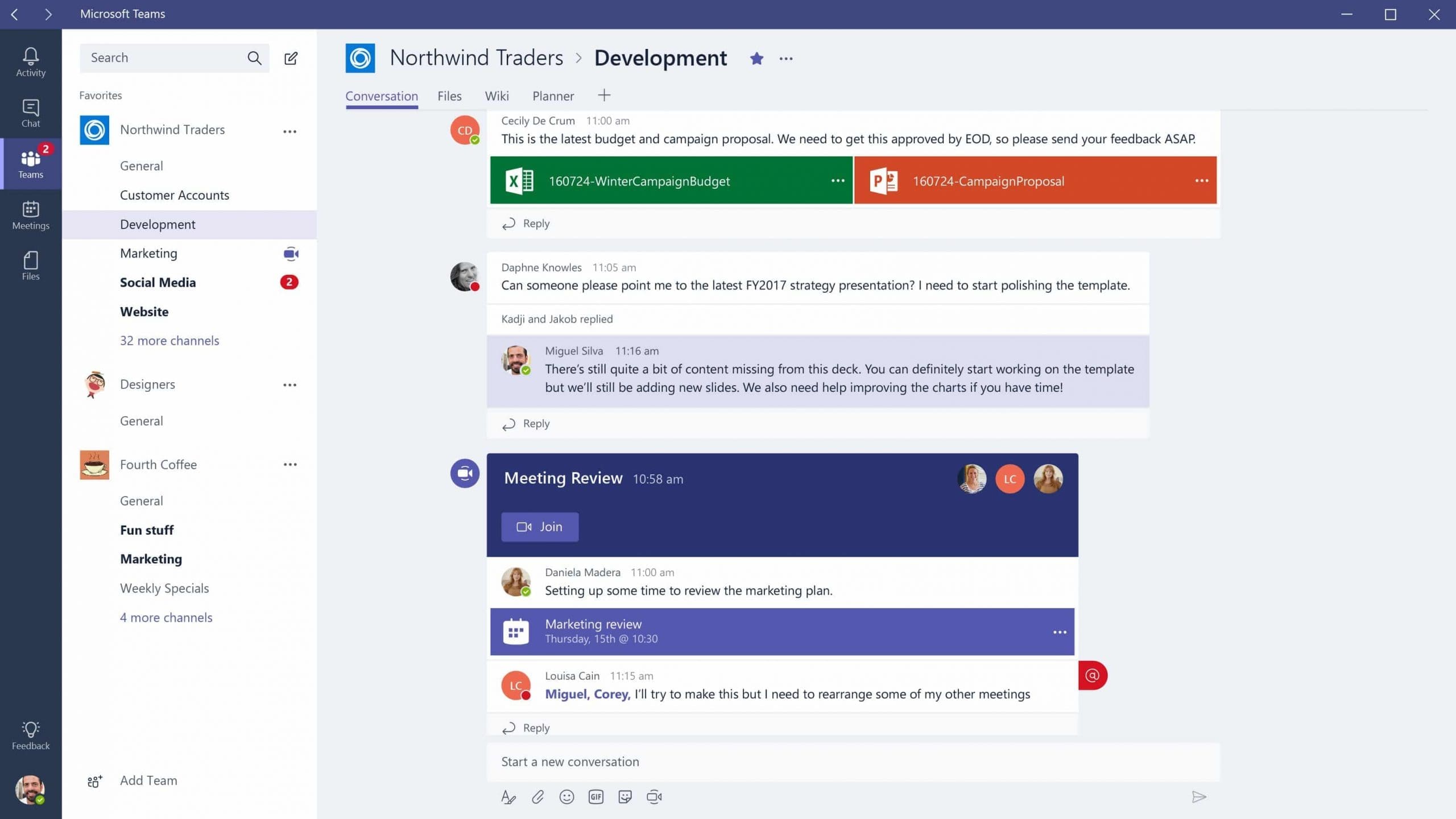 3. Maximise your cyber security
Unfortunately, Coronavirus has enabled new opportunities for cybercrime to take place, with many hackers taking advantage of the pandemic for their own financial gain. For many businesses, this has been a huge wake-up call to implement more advanced and reliable cyber security measures.
Whether your business wishes to ramp up on email security or introduce next generation antivirus software, our comprehensive cyber security services will cover it. Our cyber security experts use carefully selected toolsets, that leverage the latest cloud, AI and machine learning capabilities, to intelligently detect, identify and respond to any potential cyber threats your business is facing.
4. Organise staff shifts
With the need to keep 2-meters apart, we must sadly wave goodbye to the bustling atmosphere of a busy office. The government have strongly advised implementing shifts "to change the way work is organised, to create distinct groups and reduce the number of contacts each employee has".
If shifts are a new concept to your business, you may feel you don't know where to begin! Fear not, as Microsoft Teams provides a seamless platform to not only set-up new shifts, but also monitor and update shift patterns, whilst ensuring that all employees are notified of shift information.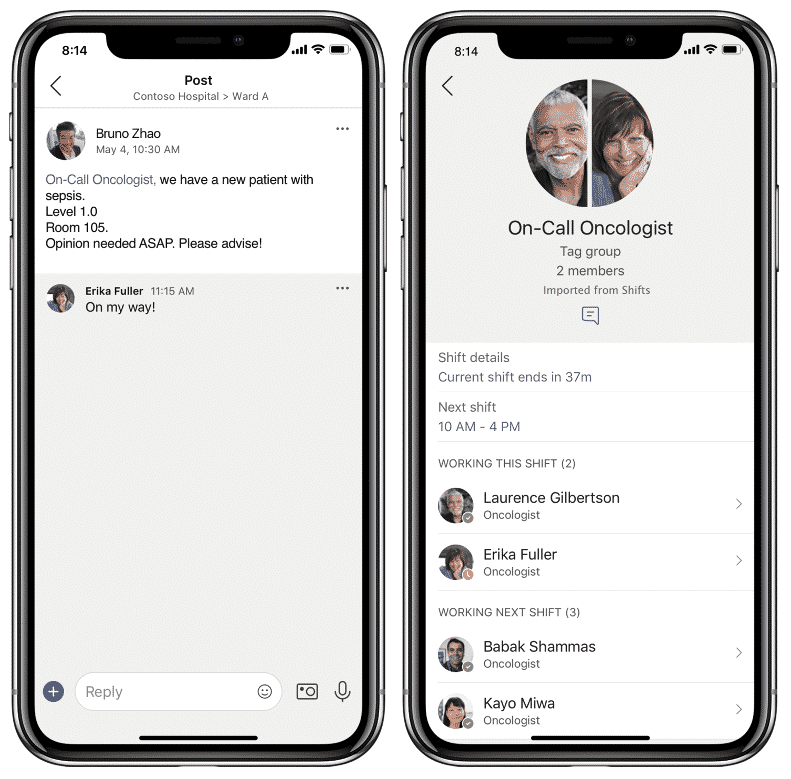 5. Keep communication open
For many of us, returning to the office will introduce a surge of new business opportunities, which is fantastic! But how can we manage this with limited staff, shift work and no face-to-face meetings?
With Microsoft 365 Business Voice, a cloud-based telephony solution, you can set-up a phone system that integrates effortlessly with your Microsoft 365.
It connects from any device, and any location. Think of it as a virtual office, with all the tools you need available from a single screen, allowing team members to work together collaboratively. It also integrates with Outlook, meaning you can contact people outside your organisation too, allowing important meetings with prospective clients to still take place.
6. Upgrade to Windows 10
Before leaving the office to begin this new remote-working venture, you may not have considered the importance of ensuring all devices, both desktop and mobile, are equipped with the latest version of Windows 10.
By working with a provider like us, we could support you with upgrading all devices still operating on Windows 7. By working on Windows 10, not only will you reap the benefits of faster and more efficient performance, but you will receive advanced security features, such as ransomware protection and threat detection. As Microsoft has officially ended support for Windows 7, upgrading to Windows 10 is the sure way to stay safe from the ever-evolving list of cyber threats today.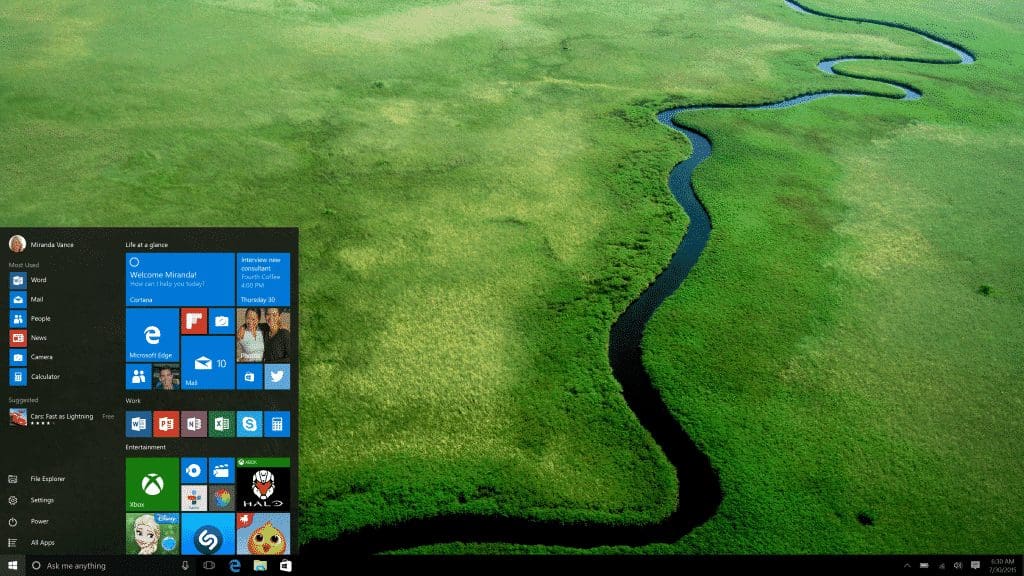 7. Protect devices on-the-go
With staff members working on rotating shifts, or in unfamiliar routines and locations, the risk of lost devices increases dramatically. It's vital that you encrypt your devices to ensure that, should the worst happen, your business's confidential data is safe.
As a Microsoft Gold Partner, we can help your business harness a cloud-based way of working, with Microsoft 365 offering you more control over devices, allowing you to restrict third-party access and even block access to files on chosen devices, meaning lost devices won't post a risk to your business.
8. Provide ongoing remote working opportunities
The majority of businesses will likely continue to provide their staff with working-from-home opportunities post-lockdown, as many may have experienced the positive impacts this can have on a business, around staff productivity and ease of lifestyle.
There is also the ongoing probability that under the new NHS test and trace program, some staff might be required to work from home again at very short notice. Therefore, it's critical to set-up your business in a way that can support remote working moving forward.
With assistance from technology specialists, like those at Virtuoso, you can create a bespoke IT roadmap for your business. We will deliver a solution that enables your business to harness all the right technology while working alongside your specific business requirements.
9. Continue to collaborate with customers
With strict social distancing guidelines still in place, you may not be able to meet with customers in person to discuss important projects.
With Microsoft 365 Business Standard you will have access to a huge range of applications, including OneDrive and SharePoint, allowing the sharing of files to be easier and safer than ever. Migrating to this cloud-based way of working is quick and will not disrupt your current business operations, it merely requires the right IT specialists to handle the job.
10. Ensure IT queries are always handled
Our last tip refers to an ongoing change your business will benefit from making. Many businesses may have experienced the stress of handling multiple IT problems from various staff members while working remotely. Tackling IT problems yourself can be time-consuming and financially draining.
By partnering with an IT service provider, like Virtuoso, you have immediate access to experts in the field of technology. Our 24/7 service desk is in operation 365 days a year, meaning you will never have to face the strain of handling a technical problem alone again. As well as the service desk, you will receive a dedicated Account Manager, who will regularly check in with you and review your IT setup, to ensure it's supporting your business in the right way.
Let us support you
So there you have it, our top 10 things to consider before you head back into the office.
Getting back to the office is as daunting as it is exciting, which is why we are here to help with implementing all of the above!
Don't hesitate to reach out to one of our friendly advisors who can give you more information on how we can support your business on this journey back to normality.