Microsoft Teams app integrations that will improve efficiency
It's been a long and troublesome year for businesses around the globe. Adjusting to new, remote ways of working was a challenge that many of us had to overcome. However, we now find ourselves in a new era of work, where the commute to the office is a thing of the past and the strange unfamiliarity of video-calling is no longer. We've proven just how adaptable we are, by embracing working from home and continuing to thrive regardless of what's going on around us.
None of this would have been possible if it wasn't for cloud technology. Being able to access files remotely, chat with employees and continue to progress with projects from any location or device has been the foundation of our remote-work success.
Platforms like Microsoft Teams have been at the forefront of this achievement. Teams is now used and valued by millions of us across the world. It's the tool that allows us to work wherever and whenever we like, providing everything we need in one secure place.
Teams works effortlessly with other Microsoft apps and services, such as Power Automate, Outlook, Power BI, OneNote and much more. But this intelligent platform has taken its abilities one step further with its seamless system integration, not only with other Microsoft services and products but with external resources too. This year Microsoft have enabled the integration of nearly 800 applications with Teams, enabling us to work more efficiently than ever.
Here are some of the app integrations we think have the power to enrich your experience of Microsoft Teams…
Create surveys and share findings
If you want to grow your business, then it's crucial to provide products or services that your customers demand. If you want to build a thriving team, then it's vital to create processes that support your workforce. But how can you do this without asking your customers what they want, or asking your team how they work? The answer is insights.
Digital surveys, quizzes and polls can be easily created and targeted at any audience. Once the data has been generated, businesses can use it to make better data-driven decisions. There are various survey apps out there, Microsoft offers it's own survey platform Microsoft Forms. It integrates seamlessly with Microsoft Teams and allows you to create surveys that will divulge insightful data.
Teams also integrates with many third-party survey companies too, including: Reward Gateway, IntelliHR, easyfeedback, GoSpotCheck, Xoxoday Empuls, Slido and more. A popular survey app and a great example of a Teams app integration is SurveyMonkey, a cloud-based tool enabling users to carry out free or low-cost surveys that can capture valuable opinions.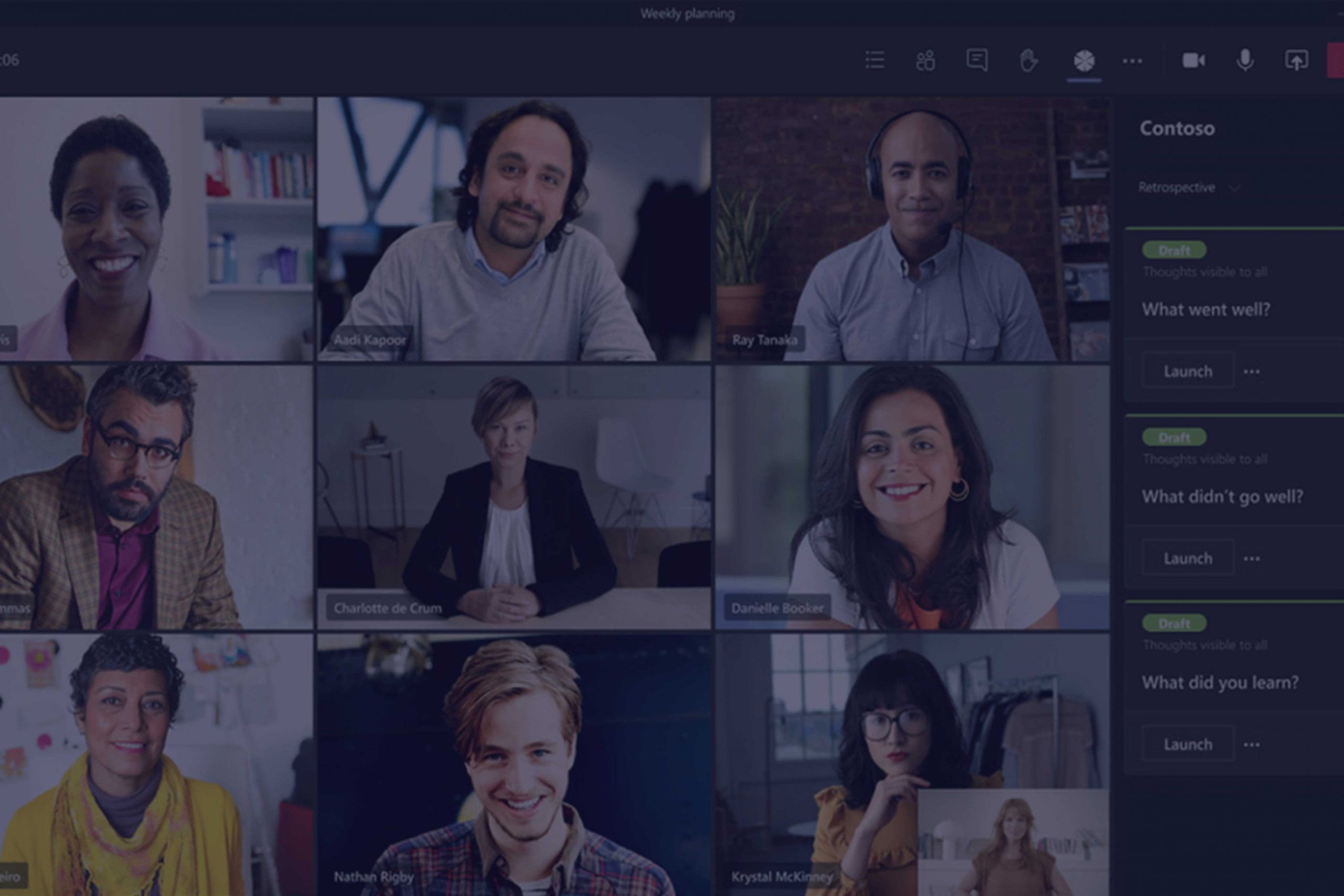 Whatever the topic you seek information on, you can access customisable pre-built templates right from within Teams. Without even leaving the platform, you can build your survey and send it out to staff either via a Teams channel, private chat or group chat. This gives you the power to make even more targeted and relevant surveys to ensure your results deliver the answers you need.
You can even share analytics about your SurveyMonkey surveys straight into Teams chats or channels, allowing you and your team to collaboratively review feedback. Notification settings within Teams allow you to send your team updates on a survey so that they can incorporate findings into their daily work.
Organise project activities
Whilst Microsoft Teams allows you to communicate and collaborate on projects within the platform itself, it's not unusual for businesses to harness additional tools to assist with the organisation of project activities and teamwork. When juggling complex projects, involving various teams and deliverables, things can get a bit messy!
Project management tools are growing in popularity, as they allow businesses to have a clear and up-to-date overview of where projects are on the timeline. Microsoft offers it's own project management tool, Microsoft Project. It integrates seamlessly with Microsoft Teams and allows you to stay organised whilst you tackle complex projects.
Popular third-party project management apps that Microsoft Teams integrates with include MeisterTask, Monday.com, Hive, Wrike, Method Grid, Azendoo, Trello, Runrun.it and more. A common project management tool and a nice example of a Teams app integration is Asana. Asana allows users to bring plans, goals, tasks and files all together in one place, allowing businesses to work on what is priority.
When using Teams with Asana, you can collaborate on tasks without leaving the Teams platform. You can maximise visibility of project activities by viewing status updates within Teams and even have the option to share Asana project developments directly with employees and stakeholders, via the Teams Chat functionality.
If you're in a Teams call, you can quickly access the Asana app through Teams to create or assign new tasks, without the burden of leaving your current browser.
Build stronger relationships with customers
Staying on top of customer requests and support is vital to the success of any business. However, with so many customer service tools out there, having a consistent overview of new requests is challenging.
Microsoft Teams has resolved this, by flawlessly integrating with a range of applications that allow you to engage with your customers and solve issues without leaving Teams. Microsoft offers Power Virtual Agents as a solution that integrates with Teams and allows users to respond rapidly to customers by using intelligent chatbots.
Popular third-party customer support apps Microsoft Teams integrates with include Zendesk, Intercom, Wootbot and more. An increasingly prevalent customer service tool and a useful example of a Teams app integration is Zoho Desk, a contextual tool used to improve productivity, self-service and manage cross-functional service processes.
Teams cleverly provides resources from Zoho Desk into the platform, allowing employees to resolve Zoho Desk tickets from the Teams workspace. Users can also receive real-time notifications on Teams of new tickets requests and updates, enabling them to have a consistent overview of how each customer is being supported and the progression of particular projects.
Within just the Teams Zoho Desk tab, users can view details of tickets, leave public or private comments, reply and forward tickets, update the status of tickets, assign tickets to teams of individuals, add tags, edit properties and even submit time spent on tickets.
A truly integrated workspace
The list of apps that integrate with Microsoft Teams is ever-growing. Its flawless integration with Microsoft products, as well as external apps and systems has meant users in any business department can work more efficiently.
Microsoft Teams users can experience a more enriched way of working, with less disruption of flicking between systems and tabs. They can remain more informed and maintain greater visibility of projects, even whilst in meetings. They can stay focused on the job at hand.
If you'd like your business to begin reaping the benefits of this truly integrated workspace, Virtuoso can help. As a Microsoft Gold Partner, we have migrated thousands of users to Microsoft Teams and work with our customers every day to ensure they're getting the most from this amazing collaborative tool.
To find out more, get in touch today!