With every new year, comes a new set of goals for businesses. A recent Harvard Business study revealed that those who set goals are 10 times more likely to be successful. This is a huge reason to get your goal strategy for 2022 underway!
It's important when setting business goals for the year that they are achievable. New year goal setting could include anything from financial goals (e.g. reaching new targets), to work progress goals (e.g. growing a client base in one area of your business). Whatever your goals are, make sure you and your workforce are motivated to reach them. Why? Because setting goals is the easy part; it's sticking to them that's the real challenge!
Luckily, we live in a flourishing technological world, meaning we have access to countless powerful tools that can ensure whatever you're gunning for stays within your reach! Microsoft Teams has grown rapidly over the past few years and has become a worldwide hub for business communication and collaboration. With its seamless video calling and effortless file sharing capabilities, it's no wonder this platform has been globally recognised as an integral business operations tool.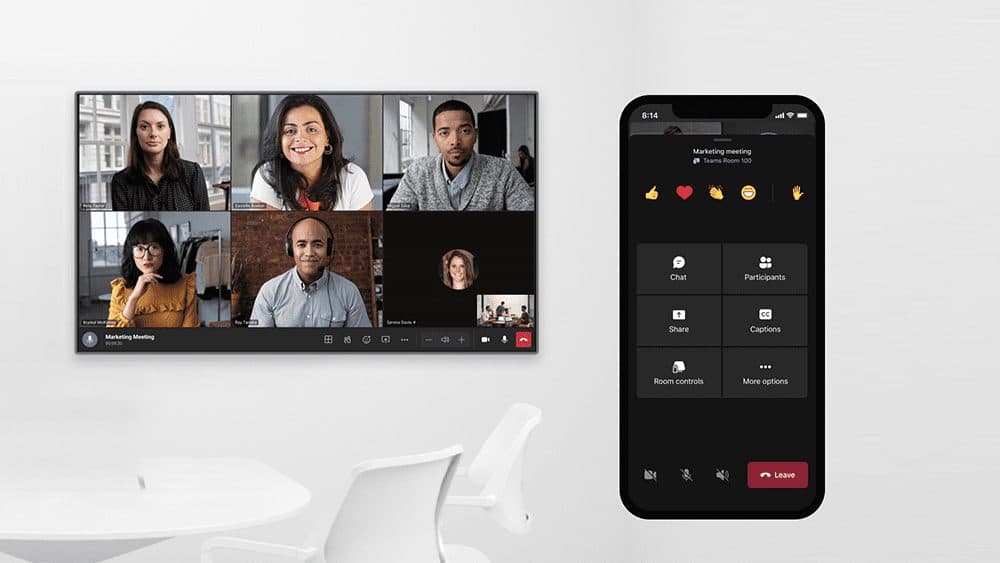 If you are already a user of Microsoft Teams, you will understand the impact it can have on your day-to-day business activities. But are you aware of the many clever features of Microsoft Teams, that could help your business reach its new year goals and ensure your workforce remains focused throughout 2022?
Keep reading to discover more…
5 Teams apps to help you reach your new year goals
1) Microsoft Planner
An important part of achieving goals in business is ensuring that all those involved understand what the goals are and what is required of them. A hurdle for many businesses is managing this oversight. How can you ensure all your team are aware of what they need to be doing, whilst efficiently tracking their activities?
We've said it before and we'll say it again: Microsoft Planner. This tool has been brilliantly devised for setting goals, managing tasks and monitoring progress. Its clean design allows multiple users to create new tasks and assign responsibilities transparently. Instinctive drag-and-drop functionalities enable seamless management of tasks, whilst buckets help teams organise goals into more digestible categories.
But did you know your team can access these tasks from within the Microsoft Teams app? Head to the search bar in Teams and type in Tasks by Planner and To Do and voila! You can flick through important and planned tasks, as well as assign new ones, without leaving the comfort of the Teams platform.
2) Viva Insights
It should come as no surprise that behind many successful businesses is a happy team. In fact, a study by Social Science Research Network found that "happy employees not only worked faster, making more calls per hour, but also achieved 13% higher sales than their unhappy colleagues". If you're running a business, it's your responsibility to check on and maintain the overall happiness of your team. After all, you can't expect them to meet targets and reach goals if they are stressed and unmotivated, right?
Introducing, Viva Insights. Viva Insights is like a therapist and company mascot rolled into one! Accessible from within Teams, this app will encourage your staff to check on how they are feeling and how this might be reflecting on their work. It also lists any urgent to-dos, whilst also encouraging them to book "focus time", which allows them to manage stress, whilst working uninterrupted and ultimately, keep on top of their tasks.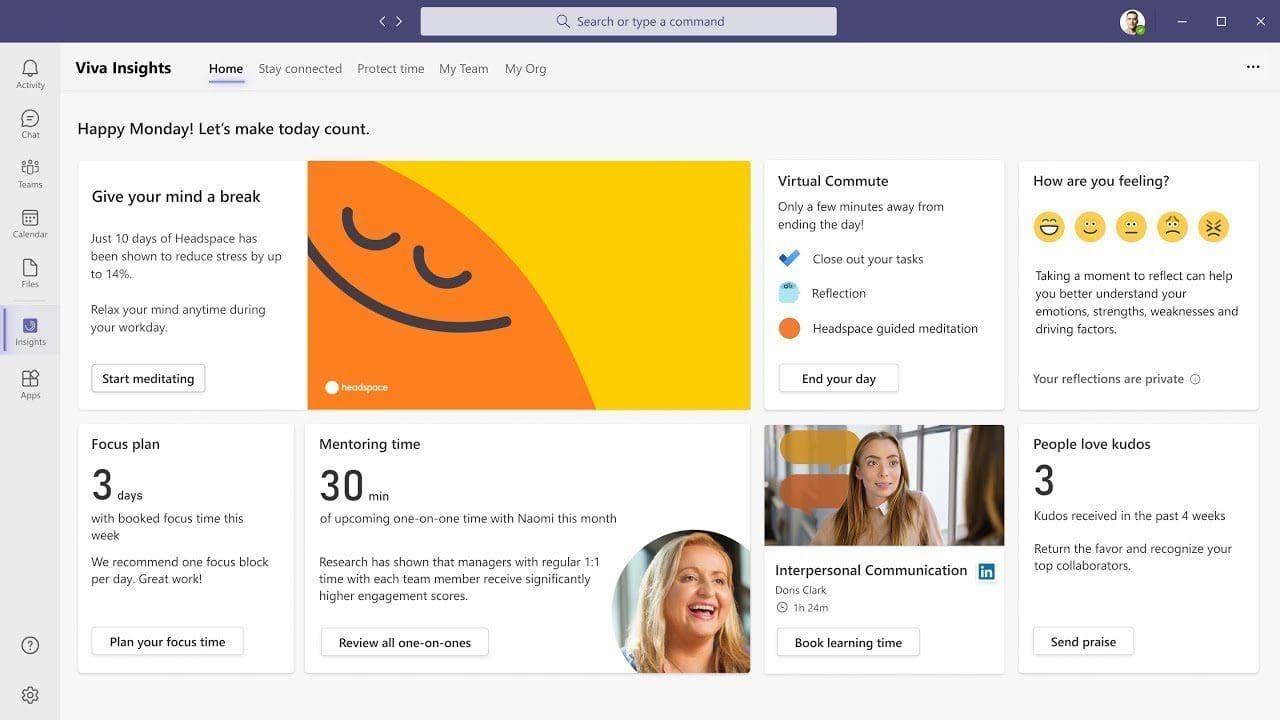 To access this wellness tool, head to the search bar in Teams and type in Viva Insights! It might just be what keeps your team focused (and happy) this year!
3) Employee Ideas
You employ great people because you believe they can make your business better. This means gathering their ideas and feedback should be a top priority for you, throughout the year. A study conducted by Sideways6 revealed that 82% of employees agree they have ideas to make their company better, but a fifth of these ideas are lost because employees are afraid to put them forward, or don't feel they have the means to do so.
Microsoft has a solution for this. Employee Ideas (also accessible via the app section of Teams) has been designed to enable team members to quickly generate and organise ideas around projects. Users can vote upon ideas, encouraging greater company engagement. This could be used on campaigns, or company-wide initiatives (e.g. should we be wearing masks at work?).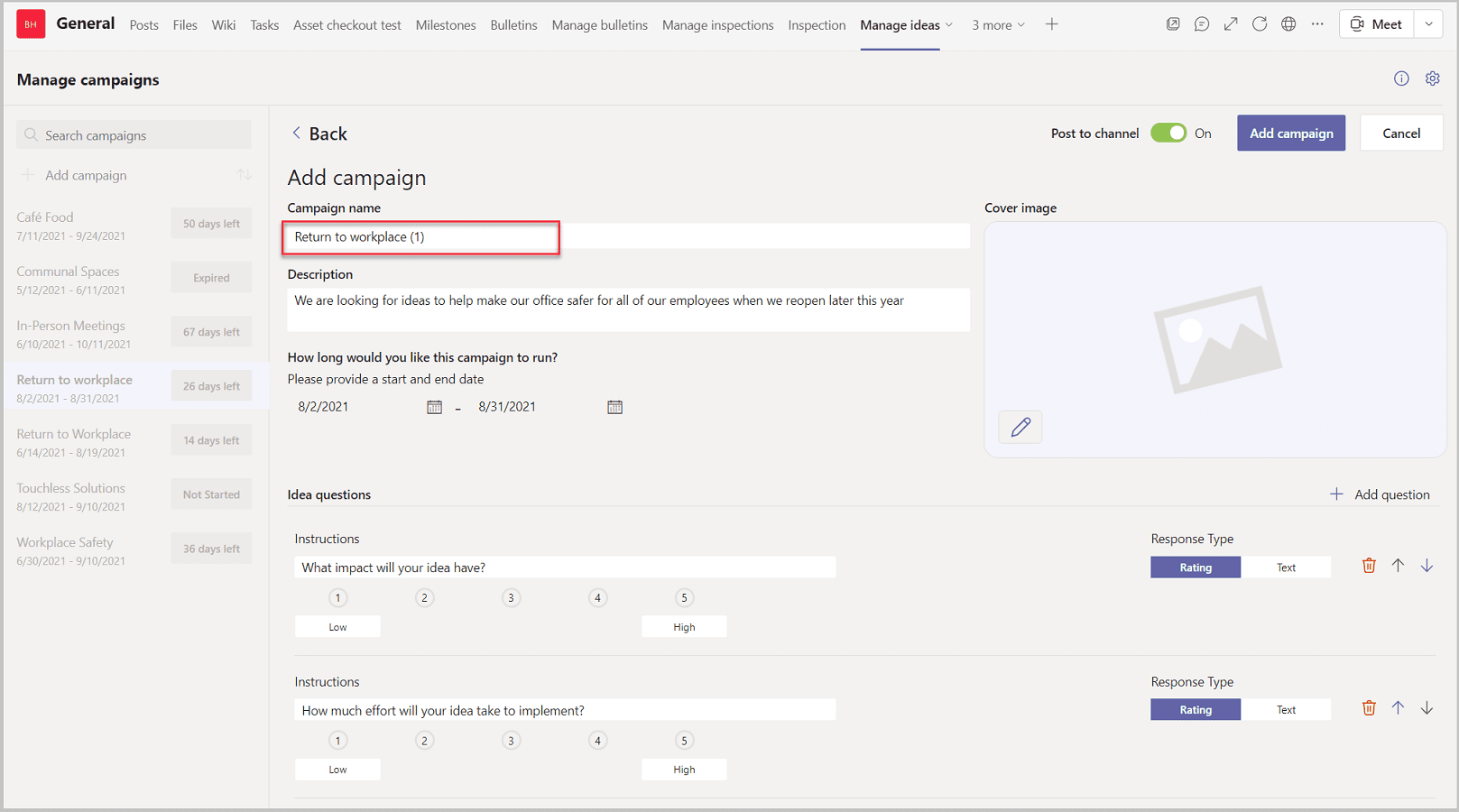 This intelligent tool guarantees your team feel their voices are being heard, whilst promoting insightful conversations around topics relevant to your new year goals!
4) Who
If your business is fast-paced, ever-changing and ever-growing, it's very likely your team could quickly lose track of who does what, and who reports to who. They might even find themselves forgetting who they worked on which projects with. It's confusing just thinking about all this confusion!
The Who app in Teams can be pinned to a users' teams menu and acts as an insightful and knowledgeable friend. Think Ask Jeeves or Google, but for your business! You can ask Who things like "Who did I email about X project?" or "Who works in a team with John Smith?". In a matter of seconds, Who will respond with an accurate answer and links to contacts that might be helpful.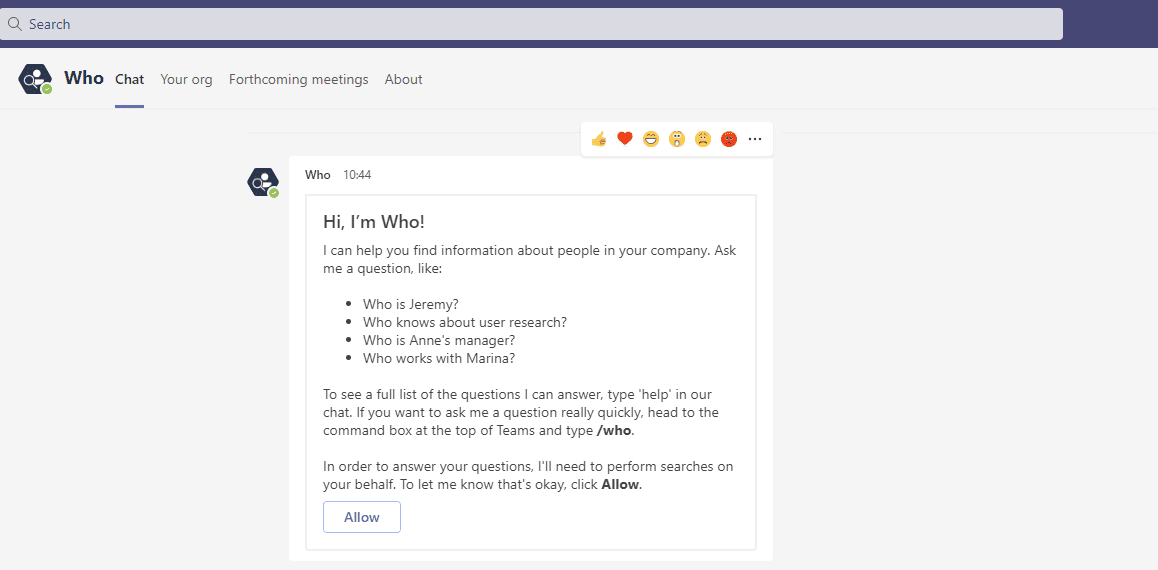 This clever bot will not only familiarise your workforce with your business structure and activities, but it will make information more accessible, whilst eliminating inefficient conversations between colleagues. Can you imagine how this will impact productivity and ultimately, help your business achieve more?
5) Power BI
With so many new tools to play with today, businesses have never been more data-driven. Data and insights are helpful for so many reasons, but when it comes to meeting objectives and reaching goals, they are essential. How can we reach our goals without having access to data that tells us we're on the right track?
Power BI has quickly become one of Microsoft's most valued apps, in its ability to simplify data and reveal actionable insights, that would have previously cost individuals time and energy to gather. The business analytics available in Power BI allows users to pull information from Microsoft and third-party applications, creating a holistic view across all business operations.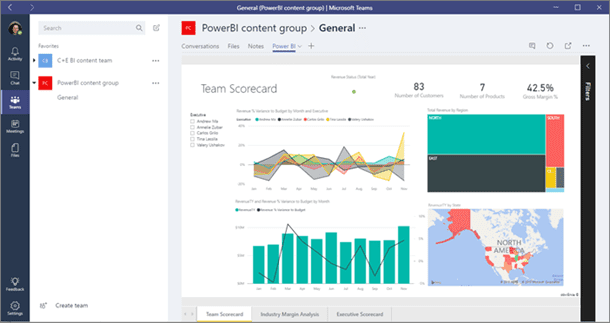 When connected with Teams (type Power BI into your search bar and add the app), your team will have instant access to reports and data. Your team can respond quickly to data findings and share reports right within chats. This will make collaborating on projects – and reaching business goals – easier than ever!
New year, new goals
So there you have it! 5 powerful apps that integrate seamlessly with Microsoft Teams and can help you get one step closer to achieving your business goals for 2022.
BEFORE YOU GO…
Did we mention we are a Microsoft Gold Partner? Our team of friendly, qualified experts are available 24-hours a day to discuss cloud tools and modern technology solutions that could bring real changes to your business.
Whether you're already a Microsoft user, or just starting your cloud journey, we're here to help. Get in touch today and let's find out how we can fast-track your business success!