How to keep business booming during lockdown 2.0
After a second national lockdown in England was announced last week, it's only natural that we all feel deflated. Another month (or possibly more) indoors, whilst many other countries around the world are celebrating zero cases… It's a harsh reality to come to terms with.
For business owners, you must understand the toll this might take on your workforce. Many will feel frustrated with their inability to see their loved ones, or overwhelmed with the prospect of being trapped indoors again – with no Friday night drinks or Saturday morning brunches to get them through the week!
It's scary for both business owners and employees. We rely on our jobs now more than ever; keeping businesses afloat during these troublesome times is vital. But with a plunge in company spirit and lockdown restrictions forcing us to work from home, how can it possibly be "business as usual"?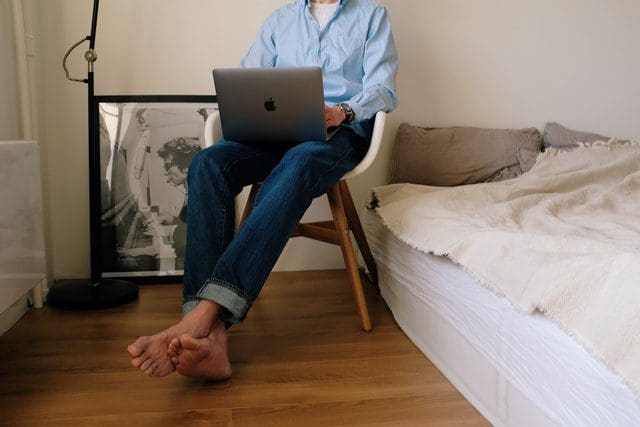 This is where cloud technology steps in and saves us, like an umbrella on a rainy day.
A simple subscription to Microsoft 365 Business will enable you to do more than just work. Boost employee engagement, automate tiresome processes and streamline workflows with tools that are ever-growing and developing to help businesses like yours.
It's no longer just about having the ability to share files or video chat. Cloud technology has transformed to provide us with the ability to keep business booming, even during the most unsettling of times.
Read more to find out how…
Encourage creativity with modern digital meetings
One of the biggest hurdles of the first lockdown was keeping teams connected whilst they worked in different locations. For Microsoft, this is where Teams surged in popularity.
Teams provides users with the ability to seamlessly share files, discuss projects via chat-boxes and video call with thousands of people. However, it has expanded beyond its original capabilities this year by providing users with more personal and connected experiences.
We've previously shared developments around Teams Rooms and Together Mode, but we haven't yet touched on Teams' recent virtual Breakout Room functionality.
Did you know that 75% of employers rate teamwork and collaboration as "very important"?
Microsoft has cleverly identified the power of teamwork, something many employees are missing whilst remote working. Workshops, study groups and creative classes are difficult to replicate whilst attendees are situated in home environments. Or at least they were until Microsoft developed the Breakout Room function in Teams, due to become available to all users this November.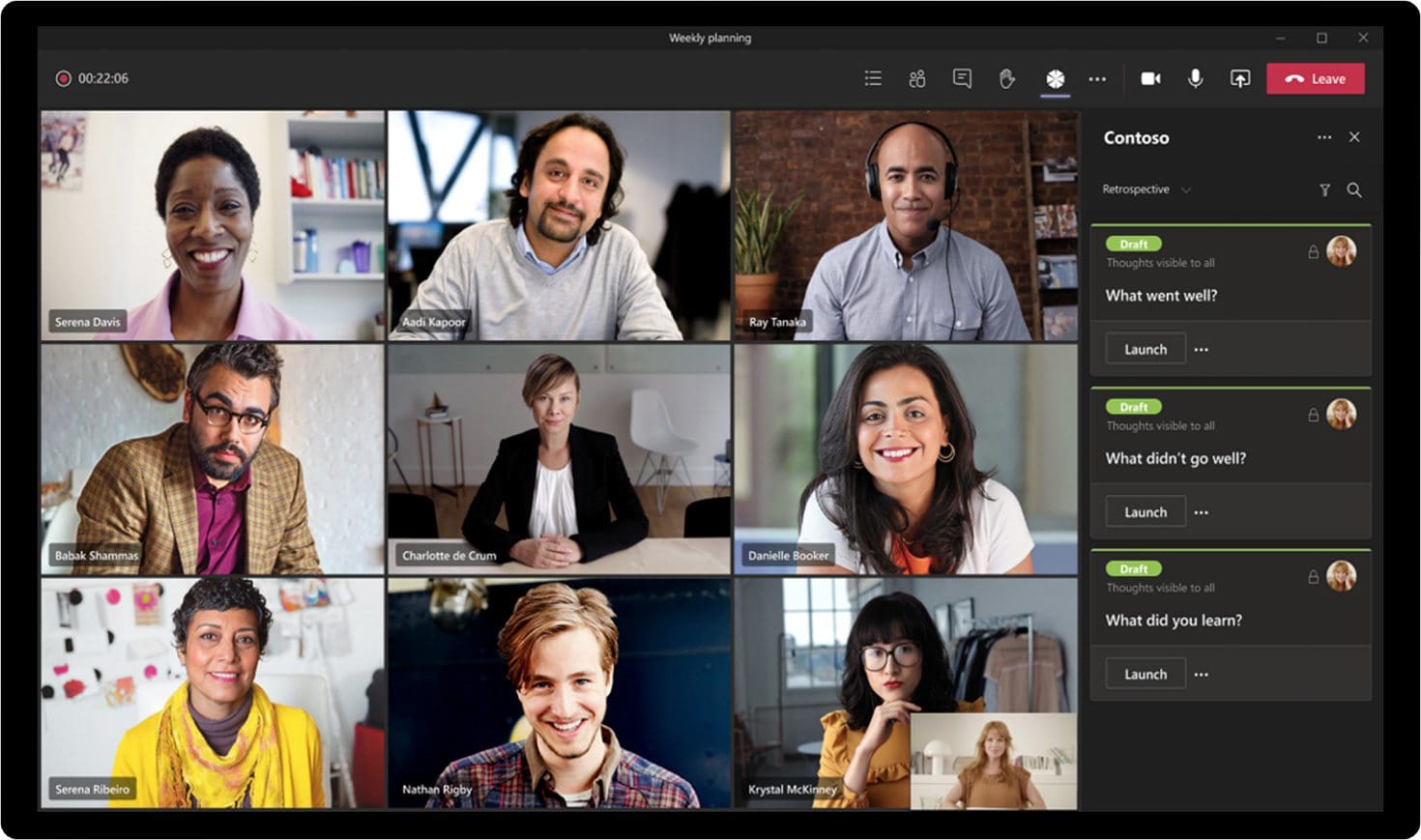 Expecting attendees to freely share ideas on video calls with large numbers is a little unrealistic. We're all adapting to this new meeting-style and many can find it intimidating. Breakout Rooms offer hosts the capability to split virtual meeting attendees into selected groups, encouraging imaginative discussions to take place in more comfortable settings, whilst breaking free from the rigid meeting-styles we have become so confined by during lockdown.
We expect that by embracing this function, along with all the other fantastic functions Teams offers, employees will begin developing new concepts more openly and continue to contribute to company growth and success.
Remain agile by automating processes
One of the most innovative things to come from Microsoft is the ability to automate outdated and time-consuming processes that would otherwise require ample manual labour.
Did you know that 37% of organisations are still using paper to manage critical business processes?
There is a need for businesses today to remain agile. But as businesses grow, and their customer base with them, it becomes more difficult to manage the influx of work. Replying rapidly to customer requests and deploying prompt effective solutions is tough at the best of times, let alone during a lockdown, where teams are separated and working from unusual environments.
Regardless, it's vital to maintain high standards of customer service and project delivery throughout the unanticipated changes our world experiences.
Power Automate offers a solution to this.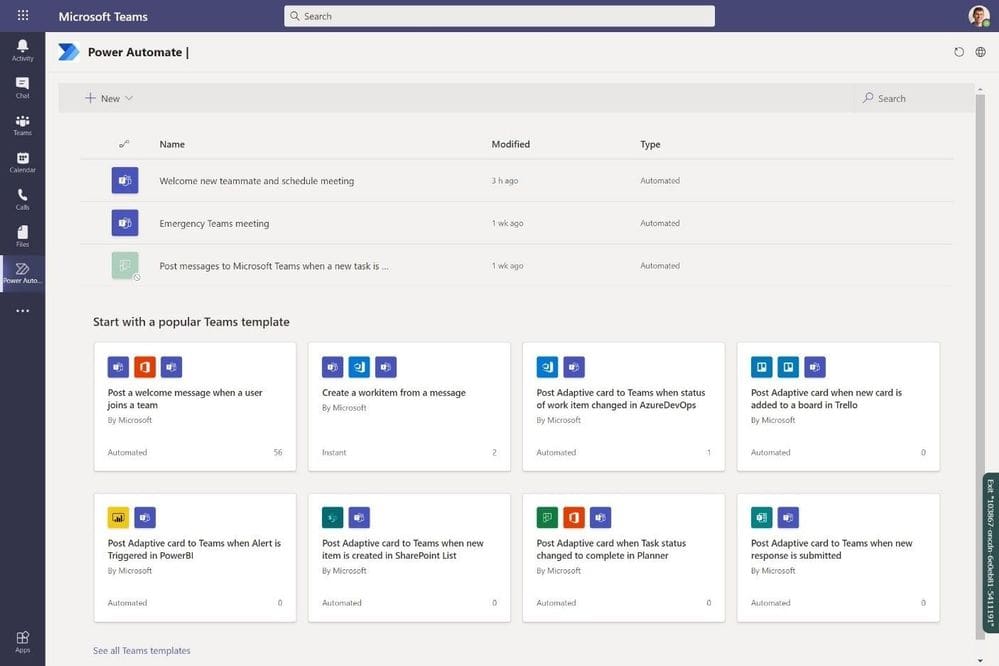 This tool enables you to build time-saving workflows for individual tasks, or large-scale systems, whilst permitting the integration of over 300 different external applications and services, such as Google Analytics or Mailchimp, to offer further advanced functionality.
A 2020 Total Economic Impact of Power Automate study revealed that $1.41M of workers time was saved over 3 years, after introducing this tool to businesses.
This service offers businesses like yours the ability to modernise legacy tasks and processes. It innovates users to streamline workflows and use their time effectively, so businesses can continue to deliver quality services, even during lockdown.
Want to know more about how to automate business processes using Microsoft tools? Read this article.
Transform your business using AI
For years we have been learning about technology and how it can be utilised to further support modern society. However, now technology is learning about us.
We no longer have to look for ways for technology to be useful, AI in technology is discovering that for us. Just look around your office, for example, be it home or business. Your phone is no doubt sat beside you, waiting to answer any query you might have. Your laptop or computer is available to help you coordinate your life. Your smartwatch is monitoring everything from your schedule to your heartbeat.
We are no longer smarter than our technology. Technology has outsmarted us. And whilst many will find this a terrifying concept, others are finding ways to leverage this intelligence to better their own lives and businesses.
Did you know that 54% of executives say AI solutions implemented in their businesses have already increased productivity?
So the real question is how can you harness AI to keep your business booming, even in the most unprecedented of times?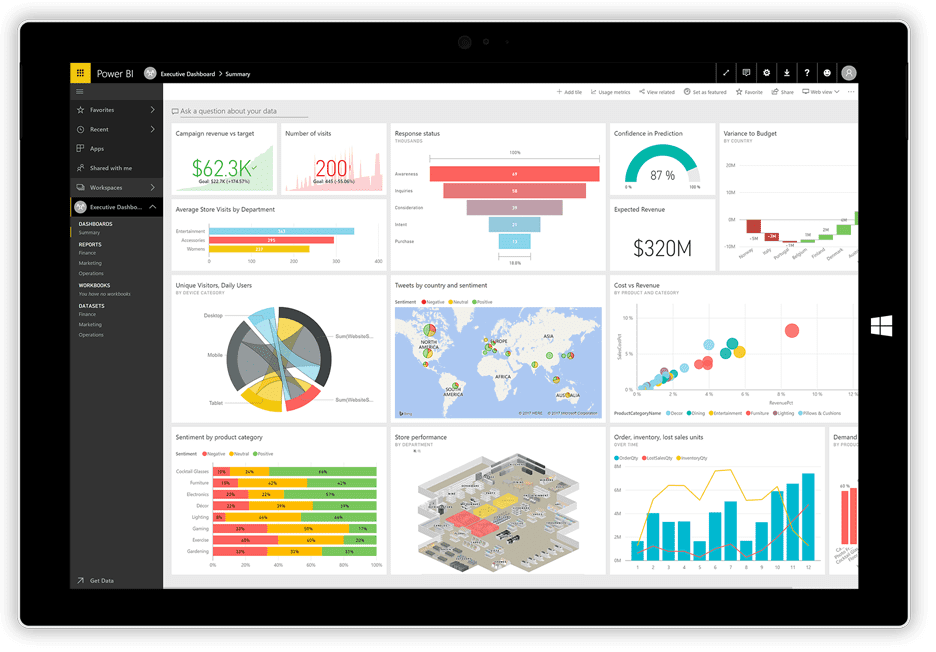 When you migrate to the cloud with Microsoft you gain more than just server space. Intelligent solutions like Power BI can collect your data and provide insights to help you optimise operational efficiency and personalise customer interactions, to create a more engaged and meaningful business.
Power BI acts as an analytical platform, gathering data that provides a clearer overview of business operations and thus, assists with tailoring decisions to resolve challenges and make improvements. Built-in AI capabilities integrate with various other Microsoft products to gather meaningful findings and visualise data in a clear and digestible way.
"It has gotten our key decision-makers out of the weeds by providing them with metrics they need to do their job, and not have to wrangle the data to get answers. Flexibility, interactivity … just jump in." Daksha R, Manager, Clinical Research Analytics
By utilising a platform like Power BI during lockdown, your business will reduce time spent preparing reports and trying to understand company behaviours. Instead, your team will have access to data they never knew existed and can leverage this to make data-driven decisions that could better your business.
Start improving your business today!
With a Microsoft 365 Business subscription, it has never been easier to keep business booming. And what better time to migrate to these clever cloud-based platforms, than during lockdown?
As a Microsoft Gold Partner, we are available to help you every step of the way. Once we've integrated Microsoft 365 into your business, we can support you in getting more from these tools.
Get in touch today to find out more about how Virtuoso can work alongside you as your technology partner, throughout lockdown and beyond!