Host hybrid meetings with Microsoft Teams Rooms & Yealink equipment…
The year 2020 has been instrumental in revealing the importance of technology and the vital role it plays for businesses. It has never been clearer how a smart digital setup could support business growth and enable more independent workstyles.
Many of us have embraced cloud systems like Microsoft Teams this year to facilitate remote working abilities. This platform enables users to communicate via instant chat, collaborate on projects from any device or location and of course, video call.
But how have Microsoft Teams adapted to support the businesses that are now returning to the office? Introducing, Microsoft Teams Rooms.
What are Microsoft Teams Rooms?
Once known as Skype Room Systems, Microsoft Teams Rooms are a powerful resource that incorporates several systems and hardware to deliver a meeting room experience powered by the cloud.
"Microsoft Teams Rooms provides a complete meeting experience that brings HD video, audio, and content sharing to meetings of all sizes, from small huddle areas to large conference rooms." Microsoft, 2020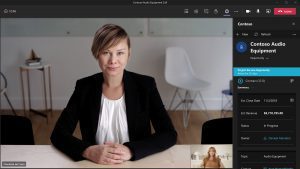 Microsoft Teams Rooms replace archaic conferencing phones and complicated hardware setups with an easy to use touchscreen control panel, that links with the Microsoft Teams application, as well as other Microsoft tools such as Outlook.
Businesses using Microsoft Teams Rooms will modernise their meetings by using this HD audio and video experience. With just one touch, users can connect with all participants invited to a meeting and work collaboratively, as though all in the same room.
Additional functions such as inviting new members to a meeting via the visual directory, muting particular participants' microphones and wirelessly displaying content to all members are just a few of the ways this environment supports hybrid workstyles.
These seamless meeting rooms will respond to users on mobile, tablet or laptop, meaning your team can work together, wherever they are. Proximity sensing means that your Microsoft Teams app will detect which nearby meetings rooms are available and will allow you to view these spaces from your mobile, so you can arrange and join meetings even when on-the-go.
This environment could also be argued as COVID-19 friendly, as Cortana voice control allows you to verbally instruct certain actions, such as "Join the meeting" or "Present the finance review", removing the risks of viral spread through device sharing. Click here to find out more about how Microsoft tools fight the spread of coronavirus.
Microsoft Teams Room components
To set up Microsoft Teams Rooms for your business, you must have the following components:
Touchscreen control panel
Microsoft Teams Rooms application
Dock/extender
Peripheral devices (camera, microphone, speaker)
Display screens
HDMI input
Microsoft has partnered with various technology providers, including Logitech, Crestron, Lenovo, HP, Yealink and Polycom, to give users options when choosing how to build their Teams meeting spaces. Different bundles accommodate different needs
An IT support provider, like Virtuoso, could assist your business in choosing the right hardware and equipment for your environment.
Get started with Yealink
If your business is just beginning its journey to hybrid workspaces, then you may wish to begin with Yealink MVC devices. This package of technology is perfect for small to medium meeting rooms, providing great entry-level equipment for your business to begin exploring this way of working. It's cost-effective too, coming in at between £2000 – £2500 for the entire setup.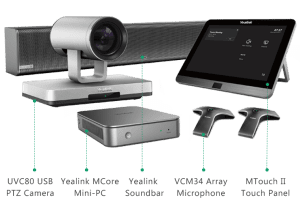 "The MVC series is a bundle video solution for Microsoft Teams that includes everything you need to interact, connect, and collaborate with internal and external users seamlessly and intelligently." Yealink, 2020
So what do you get when choosing Yealink? Included within this bundle is the following high-spec equipment:
UVC50 Camera – This is a x5 optical zoom camera, operating at 1080p/60FPS. It will shoot at a 60 frame per second rate and with 91° field of view lens. This will mean your meetings will be captured in sharp focus with smooth and stable motion; almost as clear as real life.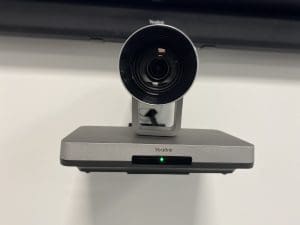 MSpeaker Sound – The purpose of a virtual meeting is so that it feels like you're together, making it vital that you can hear everyone in your meeting, as though they are just beside you. With 60 Hz – 20K Hz frequent response sound, you'll never suffer the challenge of muffled voices and disjointed sentences again.
CPW90 Wireless Microphone – Sound is just as important as visuals. This is why Yealink offers a wireless mic that has a 360° voice reception range, of up to 10ft. This device sits on your meeting room table, allowing your team to speak comfortably from anywhere of the room.
MTouch Console – Begin all meetings with one touch on an 8inch touchscreen device, taking up minimal space in your office. The device is fitted with a human motion sensor, which will automatically turn the console on as you arrive in the meeting room. The interface provides you with seamless management of all meeting actions, from inviting new attendees to muting speakers. You can even control the camera directly from this device so that attendees are always in view.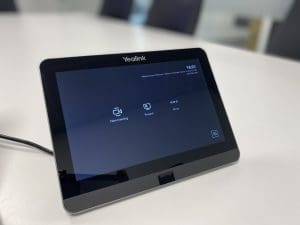 MShare Content Sharing – Plug your laptop in using an HDMI or Mini-DP to effortlessly screenshare high-resolution content with meeting participants. Don't like the idea of cables? There's also a wireless sharing option with Yealink WPP20 to give your meeting room even fewer obstacles.
Mini-PC Package – Connect all equipment with the Mini-PC, a 7th-gen Intel® Core™ i5 device with 8GB of memory and 128GB of storage. It operates using Bluetooth and Wi-Fi, meaning fewer wires for you to handle. This device is setup to give you the ease of a meeting running solely via wireless devices.
With the Yealink bundle, your business will have all the tools needed to begin its transition to a more modern workplace. You will remove the outdated phone conferencing setups from your business and introduce more human virtual meetings, enabling teams from around the world to connect and collaborate on projects, as if they were in the same room.
Our Experience
Here at Virtuoso, we're ambitious about creating a modern workplace. We actively introduce tools and technology that can support our employees in their day-to-day roles and simplify complicated processes.
To modernise our meeting spaces, we have invested in the Yealink bundle to enable staff to virtually meet with customers and internal individuals seamlessly. Virtuoso employees can enter any of our meeting rooms and instantly connect their presentations with the larger display screens. When initiating video calls with external customers, sound is delivered and received in high-quality, eliminating the risk of any lost information during crucial discussions. Our employees are able to work on projects and update documentation whilst in meetings, increasing productivity and removing the pressures of "minute taking" or writing up meeting notes.
The effortless integration between Yealink equipment and Microsoft Teams has streamlined workflows for our business, as we're sure it will with yours.
Setting up your Microsoft Teams Rooms
If you think your business would benefit from a more hybrid meeting style, then integrating Microsoft Teams Rooms into your business is a great way to begin.
A support provider like Virtuoso could manage this entire process for you. As a Microsoft Gold Partner, we've assisted many businesses with migrating to a more cloud-based way of working. We obtain a wealth of knowledge in meeting room integration and can inform you on the necessary next steps to attaining Microsoft Teams Rooms in your organisation.
We have access to a variety of certified Microsoft Teams Rooms products, including Yealink and others, and would be happy to advise on the solution best suited to your business requirements, whilst ensuring it's within budget.
As well as the implementation of Microsoft Teams Rooms, we could recommend various other Microsoft tools that could support your business tackle common hurdles, such as lack of communication, file storage, staff productivity and remote technical challenges.
Drop us a call or an email today and we can provide you with a no-cost, no-obligation assessment of your IT setup and how to begin building Microsoft Teams Rooms into your business.