There isn't a person in the world that hasn't been affected by COVID-19 in some way over the last year and a half. The outbreak of Coronavirus did more than just harm the health of millions of people. It forced many of us indoors, broke us apart from our friends and family and shifted us to work from home.
With the end of lockdown in sight, we must prepare for a whole new challenge – recovering from the pandemic and getting back to normal. Many businesses are cautiously setting plans to encourage employees back into the workplace once lockdown restrictions ease. For some industries and departments, this is a necessity, as certain job roles require more face-to-face interaction to be carried out effectively. However, it's no secret that as a society we've enjoyed more flexible workstyles, so taking this away completely is likely to disrupt the new normality that your staff have become so accustomed to.
"A survey of more than 3000 workers reveals that fewer than one in ten wants to return to the office full time when COVID-19 restrictions are eased." (Strath, 2021)
This is why many businesses are planning for a hybrid workplace, enabling teams to keep some of their flexibility, whilst also promoting a safe return to the office.
In this blog, we'll be covering: what a hybrid workplace is, the benefits of a hybrid workplace and the tools available to assist you with achieving hybrid workstyles in your business.
What is a hybrid workplace?
A hybrid workplace is where your workforce may interchange between working remotely and from the office, in a way that suits them and the business. It's an opportunity to give your team the best of both worlds, as they can benefit from the comforts of home working, as well as the joys that come with the bustling office!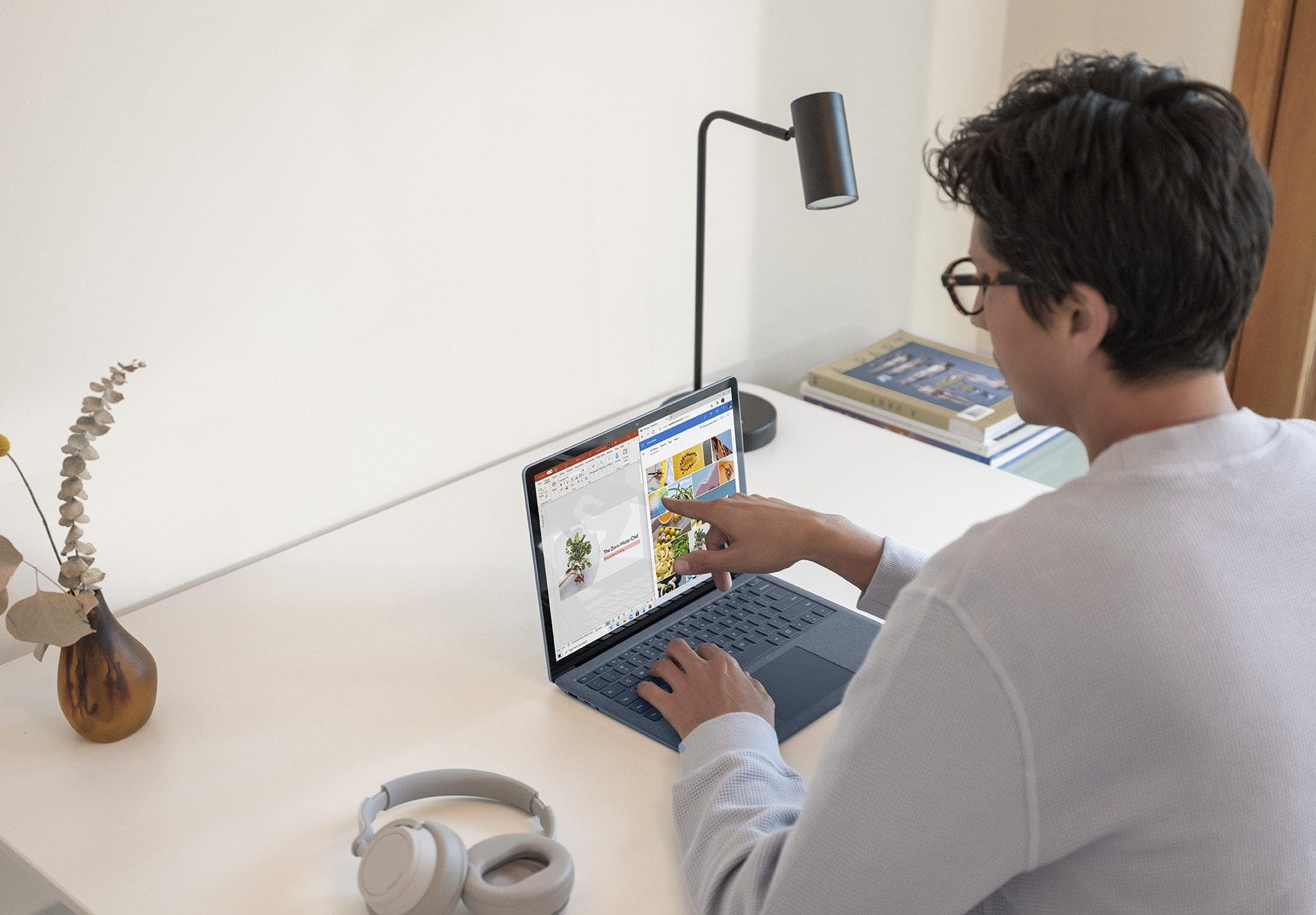 As you plan for the future, it's important to consider that the pandemic has shifted people's thoughts around the 9-5 office-based workstyle we were so used to in the past. Nowadays, businesses are promoting more flexibility, so that employees can have a healthier work-life balance and ultimately, a happier life!
This might be a disappointing reality for some business owners who long for the days of scheduled staff activities and an office at full capacity, but there are lots of positives to embracing a hybrid workplace!
What are the benefits of a hybrid workplace?
There are countless benefits of enabling a hybrid workforce, but here are some of the main ones to consider:
Reduced business costs – With your staff working remotely for a few days or hours of each week, your business will ultimately spend less on office supplies, utilities, and staff privileges like office snacks & drinks.
Less need for large office space – As your business grows, as will the demand for office space. By embracing a hybrid workplace, you can enable hot-desking or even stagger your office staff days, to ensure you don't need to spend any more on costly office rentals. In fact, you might even find you could downsize from your current space!
Reduced carbon footprint – With fewer people in the office on a day-to-day basis, we could expect to see huge environmental benefits. The reduction in the overuse of transportation systems and roads will ultimately bring down our pollution and greenhouse gas emissions.
Less risk of spreading COVID – By having fewer members of your team in the office at once, you minimise the risks of spreading COVID-19 among your workforce, which could have repercussions on your business.
Loyalty to your business – By giving your team the freedom of hybrid work, you might experience higher retention of your staff. People will be less inclined to look elsewhere for businesses offering this perk. You might also find an increase in productivity, as it's been found that staff can work harder when trusted to work independently.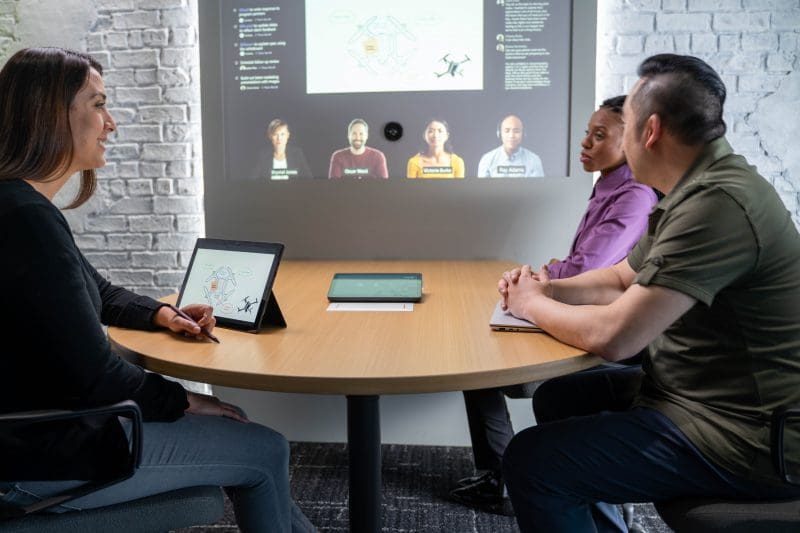 So you see, your business could reap the benefits of a hybrid workplace with a reduction in business costs and a happier workforce! But what can you do to ensure your business operates seamlessly, whilst embracing this new balanced working environment?
Top ways to achieve a hybrid workplace
Microsoft Teams Rooms
Microsoft Teams Rooms are a fantastic way to bring all your employees together, regardless of their location. You can make remote workers feel just as engaged in meetings as they would if they were in the office.
Microsoft Teams Rooms is a conference meeting room solution designed to bridge the gap between remote and office-based workers. By pairing Microsoft Teams with HD audio and video, as well as Teams-certified hardware from Microsoft & partners, you will have access to unique features that enable seamless collaboration.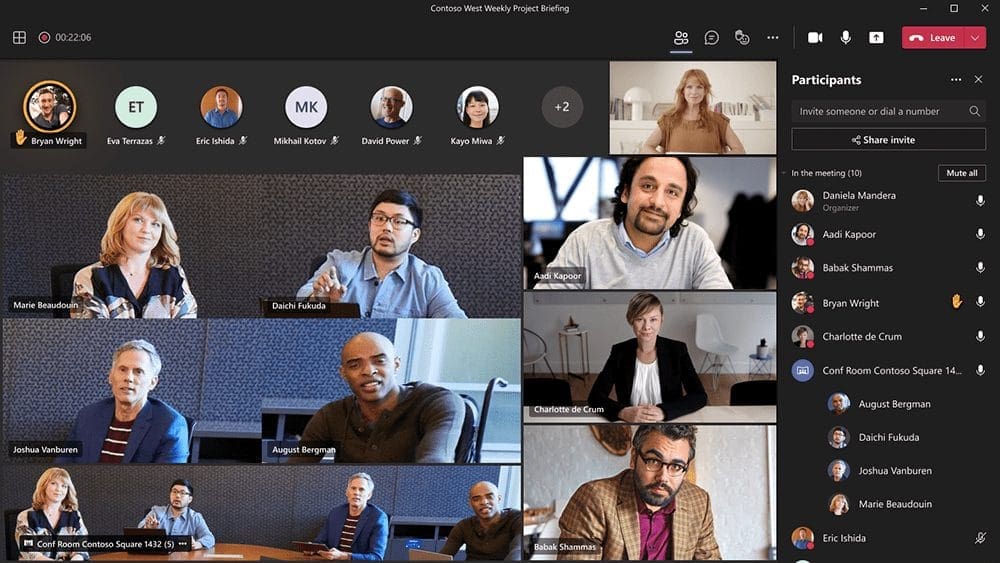 The Microsoft Teams Room solution will enable your team to collaborate on the same digital board. Smart cameras will focus on the person speaking and intelligent speakers will notify all meeting participants who is talking.
By kitting out your office with Microsoft Teams Rooms hardware you can allow your staff to benefit from hybrid workstyles, whilst ensuring they remain productive and engaged.
Did you know we're qualified to help your business deploy Microsoft Teams Rooms? We can recommend technology that suits your space and budget. Find out more today!
Windows 11
If you haven't already shifted to Windows 11, no doubt you will have heard the hype about it. This new software update has been redesigned and marketed as a hybrid work solution.
Windows 11 is described as a streamlined environment, enabling a more personal experience for users. The modernised menu allows for clearer navigation and the introduction of snap groups allows users to interact with multiple apps and desktops at once.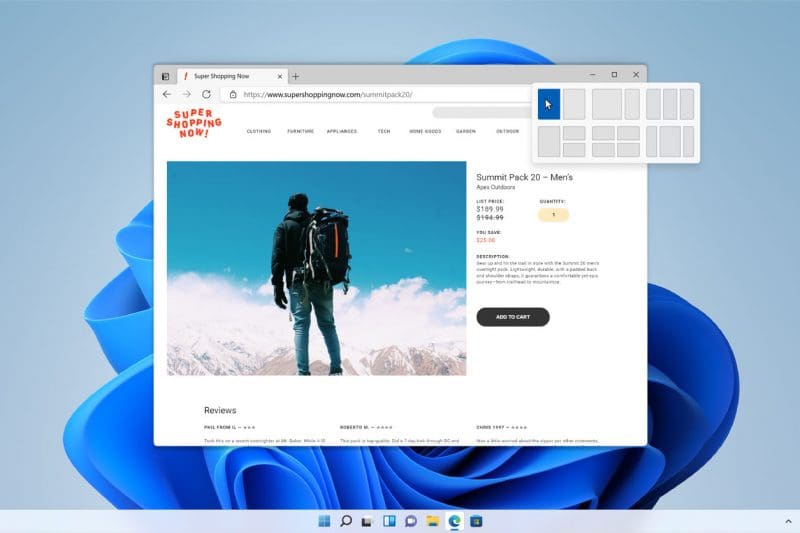 When considering hybrid workstyles, Windows 11 has put thoughtful consideration into its integration with applications like Microsoft Teams. Mute and unmute yourself quickly, with the mute button now available directly from the desktop taskbar.
There are additional features that could also ensure your remote teams are working efficiently, such as Windows Speech Recognition. This allows users to control their PC by voice alone, with a whole range of commands available to help save time and create a remote working environment that feels like a team meeting!
Did you know we're currently working alongside all our Windows users to ensure they are benefitting from all that Windows 11 has to offer? We can help to develop your business a plan to upgrade  Find out more today!
Microsoft 365 Apps
One of the biggest concerns for businesses attempting a hybrid workplace is access and visibility. You need to ensure your workforce has access to the tools they need, in real-time, so that projects can continue to progress without a glitch. You also need to ensure you have visibility across all teams and departments, wherever they are located.
How can you achieve this? Microsoft 365. Microsoft 365 offers a huge variety of products that can fulfil all the above and more. Whether it's gaining insights into your teams' performance via Power Bi, automating time-consuming processes via Power Automate, communicating with your teams via Microsoft Teams or sharing files securely via SharePoint, Microsoft 365 has it all. And don't worry about security, as Microsoft is globally recognised to build and host their products upon robust security policies.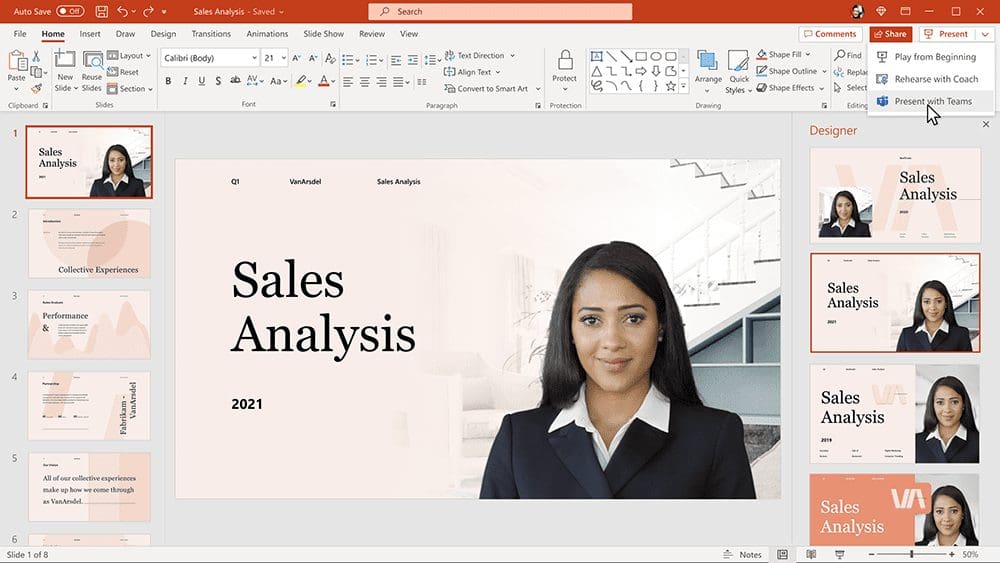 The best part about these services is that they all integrate seamlessly with one another, making managing file versions, sharing feedback and gathering reports easier than ever! They also integrate with hundreds of third-party apps, meaning you can bring information and activity from all areas of your business together. These products are always being improved and updated by Microsoft to ensure they meet the demanding needs of modern businesses, like yours.
Did you know that we're a Microsoft Gold Partner? Our team of Microsoft-certified engineers can help you get the most from your Microsoft environment. Find out more today!
Begin embracing a hybrid workplace today!
Preparing your business for hybrid workstyles is a big task, whether you have an internal IT department or not. You need to ensure both your business's physical and virtual space is set up to support teams from any location so that your business can stay on track to meet its goals!
At Virtuoso, we specialise in technology consulting and strategy. We're more than just your standard IT help desk. We'll take the time to learn about your unique requirements and tailor our technology solutions to fit those demands.
If you'd like to begin embracing a modern, cloud-based, hybrid way of working, get in touch today! Our team of friendly technical consultants will help you begin your journey.