With an ever-growing variety of advanced technology available to businesses today, it's no wonder we are moving past traditional office spaces with constrained 9-5 routines! We now recognise that everyone's lives are different, which means enabling work styles and environments to suit these differences.
You may have heard the term "modern workplace" used frequently over the last few years, which recognises the vast amount of businesses that are now trying to actively support remote and flexible work styles.
What is modern workplace, you ask? A modern workplace is essentially a business that has harnessed technology to transform the organisation, both digitally and physically, to make it more flexible, collaborative and scalable.
This could mean moving away from the restrictions of email and supporting more collaborative communication platforms. Or even allowing employees to work from home on their own personal devices, with the use of cloud-based systems.
But it's not just about ease of lifestyle for employees, a modern workplace also enables businesses to engage with tools that boost productivity, enhance security and even save costs.
A recent Harvard Study revealed that 78% of senior decision-makers believe that the evolution of workplace strategy, processes, and technology is very important to company performance.
Modern workplace
With the right technology in place, employees can work more efficiently, achieving a high-quality standard of work for the business.
It's also not wild to suggest that many businesses no longer require offices at all. By utilising cloud software, many companies can work completely remotely, eliminating rental costs for office spaces or expensive commuting fees.
Perhaps face-to-face roles that once would have required a vast amount of international travel are no longer the same, with video conferencing abilities allowing for important meetings to take place in the comfort of your own home.
So, you can see how things are changing rapidly as a result of technological advancements. But how can your business keep up with the pace and ease its way into being a modern workplace?
Here are our 5 easy steps to building a modern workplace, by using Microsoft 365.
1. Make files accessible with SharePoint
The foundations of a modern workplace are based around the ease of access to information. If you would like your business to support flexible and collaborative work styles, you must ensure individuals across the organisation can gain access to required files.
Modern workplace collaboration has never been easier when using SharePoint. SharePoint allows authorised employees to open, review, edit and share documents from anywhere in the world, from any device and at any time.
This means your office staff and remote staff can enjoy the same convenience; all they need is a web browser and they can work effortlessly.
SharePoint even allows for complex workflow collaboration, co-workers can share files and updates in real-time, improving their collaborative efforts. And features such as version control, task notifications and approvals are all accessible via customised sites, built by you to be in-brand and personalised to your business.
Think your business would benefit from SharePoint? At Virtuoso, we support all our customers in harnessing SharePoint for file storage, to transform business processes and improve collaboration.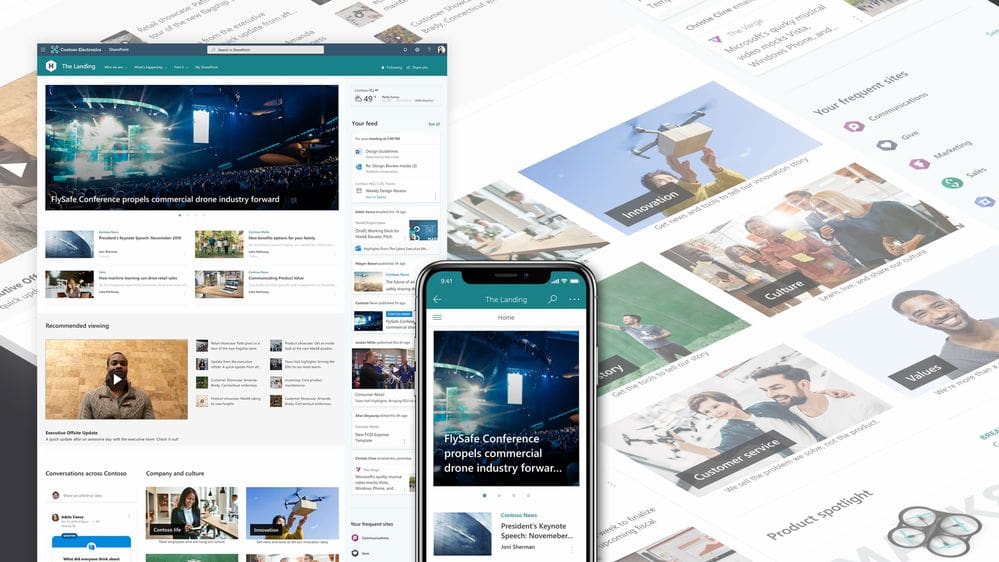 2. Enable open communication via Microsoft Teams
Many businesses are finding that traditional methods of communication, such as email and telephone calls, are no longer supportive of the complex business setups we encounter today.
Those wishing to build a Microsoft modern workplace want communication to flow freely across departments and offices, without restriction or limitation.
That's why creating a modern workplace using Teams has never been easier, as it's quickly become the hub for teamwork and communication.
The features available on Microsoft Teams are hugely representative of the modern technology-based society we live in today.
Instant messaging is possible via chat-box functions, allowing for fast responses and quick decision-making, with the charming option to send personable emojis and GIFs.
Video calling features allow teams of 10 or 10,000 to host audio, video, and web conferences with anyone, whether they are inside or outside your organisation. You can even go as far as hosting live events, meaning global partners can also join you, whilst miles away.
You can also access all your files that are stored on SharePoint directly through Microsoft Teams, with possibilities to share and edit documents in real-time.
For us Microsoft Teams is more than just a tool for communication, it is a collaborative platform advocating business productivity and  relationship building. We can think of 5 reasons your business should be using Microsoft Teams…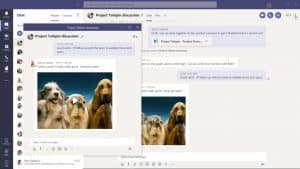 3. Enhance productivity with Microsoft 365 applications
With access to files via the cloud and endless communication platforms, your business is on its way to being a more modern environment. But to build a modern digital workplace using Microsoft, it's also vital that you provide your employees with tools that can enhance their abilities.
We live in a world where businesses operate globally 24/7, there are always things to be done and it can often feel that the end of the day has come too early! But with the right tools at hand, your business will have a better chance of keeping up with the rat race.
With Microsoft 365 Business, you will have access to a range of applications, such as Word, PowerPoint, Excel, OneDrive, SharePoint and so much more.
Not only do these tools give your staff the ease of accessing files and sharing information, but they enable the delivery of high-quality work, on-time and at speed.
This year we have seen various new features on Microsoft applications.
An AI Presenter Coach on Microsoft PowerPoint can review your presentation skills, listening for monotone pitch, grammatical hitches and even hesitation.
Microsoft Editor has brought out an AI powered service, available in over 20 languages which will help users when writing, with advanced plagiarism-checking and linguistic suggestions.
So you see, they are more than just applications for your business. They are valuable support systems for when your staff need a little extra creative assistance.
Our technical experts have vast knowledge on all the ins and outs of Microsoft 365 applications and can assist your business in harnessing the right ones.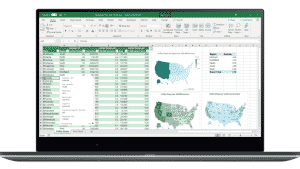 4. Migrate to the cloud with Microsoft Azure
You may have heard of Microsoft Azure, Microsoft's comprehensive cloud computing services. It provides a range of services, including analytics, storage and networking that your business can utilise to develop and scale applications, as needed.
"Azure runs all of your business applications by providing global scale, consistency and seamless integration with on-premises environments. It's the public cloud for running your business apps." (Microsoft)
A primary benefit of migrating your business to the cloud with Microsoft Azure is that you can say goodbye to the risks that come with on-premise servers, such as downtime or replacements. You can save costs, as applications are built to scale and grow at speed with your business.
A modern workplace with Azure would also mean advanced security for your workloads, identifying threats in real-time and providing actionable insights to help protect your business, therefore modernising your businesses cyber security measures.
Sounds complex, right? Don't worry, as Microsoft Cloud experts, we regularly plan and migrate legacy systems and applications to Microsoft Azure. With our support, this transition can be smooth and simple.
5. Pick the right technology partner
If your business takes the above steps, there is no doubt you will see a huge difference in how your organisation operates and the quality of the work being produced.
However, transforming your IT architecture to reflect modern work styles is a big task and you may require expert assistance from one of the world's most professional Microsoft modern workplace partners.
With Virtuoso by your side, you will receive best-in-class IT architecture consulting services. We will work with you to define your business and technical requirements and design the most appropriate solution for your modern workplace.
As a Microsoft Modern Workplace Gold Partner, you can trust us to implement the best tools into your business and begin supporting you from our very first conversation.
We thrive on helping our customers unlock their true potential, by harnessing the Microsoft Cloud! Our modern workplace services will transform your business.
For a no-cost no-obligation call and learn more about how we can help you build a modern workplace, get in touch today!