Desktop-as-a-Service…powered by Microsoft
The Microsoft Windows Virtual Desktop service is a new cloud based virtual desktop, or VDI, solution from Microsoft that is included free with most Microsoft 365 and Windows 10 Enterprise license options including E3, E5, Business, F1, A3 and A5. It is currently in public preview with general availability expected in the second half of 2019.
The Windows Virtual Desktop service allows you to provide both a full Windows desktop or just individual applications to users on any Internet connected device that can run an HTML 5 browser. Special client software is available for Windows that integrates with the local Start Menu. An Android client is also available now, with macOS, iOS and Linux clients expected soon.
"Provide your users with the only multi-session Windows 10 — virtualized in the cloud, highly scalable, always up to date, and available on any device."

Microsoft
The solution runs entirely in Microsoft's Azure cloud platform and integrates with your Office 365 tenant for user management and authentication.
Microsoft manage and operate the connectivity components while you provide the virtual machines that your users connect to in your own Azure subscription. There is some additional costs for the operation of the virtual machines in Azure, but these can be minimised through features like reserved instance licensing and automations included by Microsoft to power down VMs when they are not needed.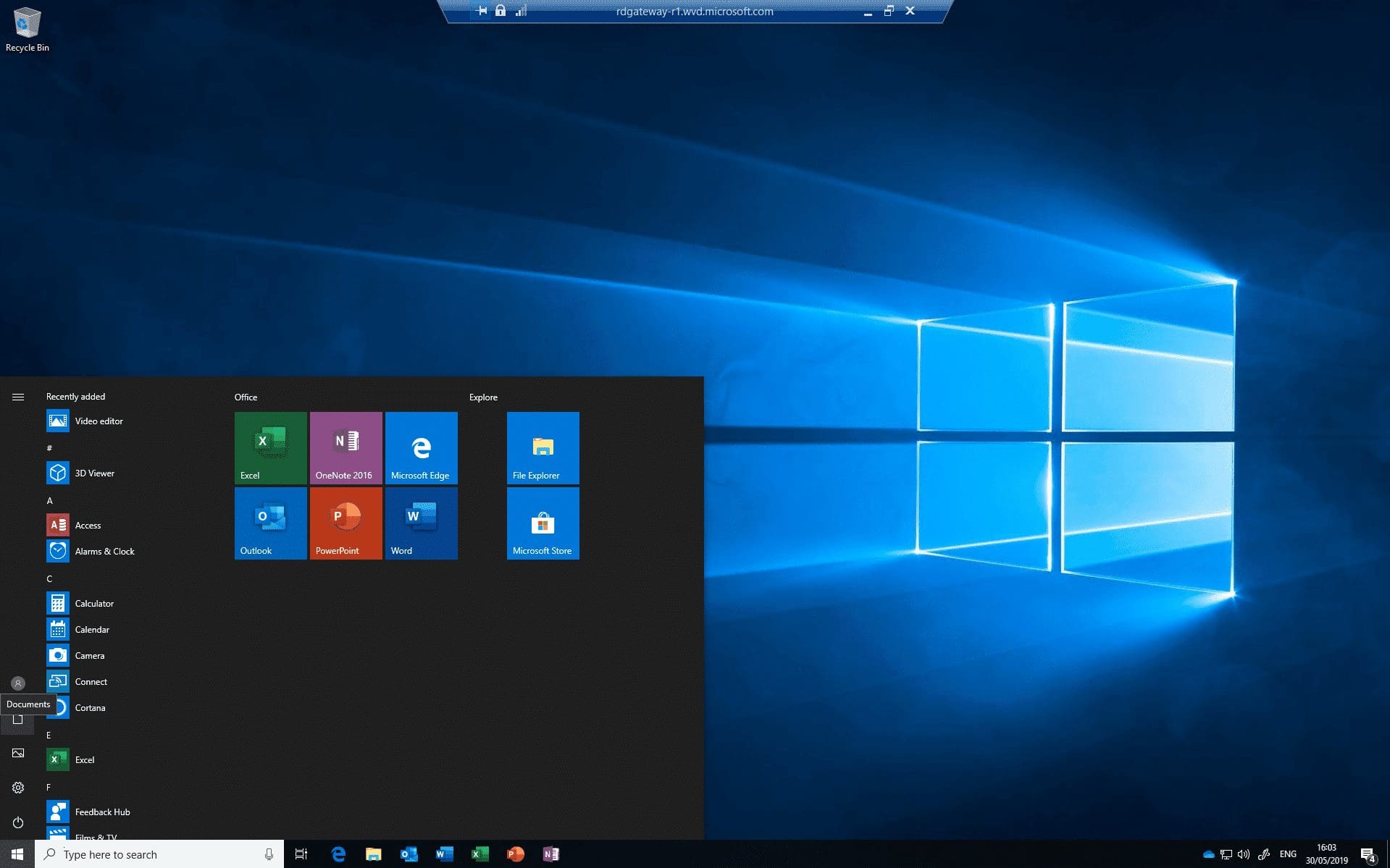 You do need to have some infrastructure components setup in your Azure subscription – including a Virtual Network, Active Directory Domain Controller synchronised with Azure AD / Office 365 and a file share for profile data. If you don't already have an internal Active Directory, then you can use the built-in managed Azure AD Domain Services and Azure Files services instead.
Windows Virtual Desktop supports Windows 10 and Windows 7 with compatible Microsoft 365 or Windows 10 Enterprise licensing and also Windows Server 2012 R2 or newer for organisations with RDS Client Access Licenses.
Microsoft Windows Virtual Desktop (WVD) provides some advantages over other comparable VDI solutions:
It is easy to setup – you just have to provide the desktop virtual machines, and Microsoft already have some standard options pre-built for you including Windows 10 with Office 365 pre-installed and optimised. Although it is recommended to use custom desktop images, even if it is just to get a UK keyboard and date format.

It is optimised for running Office 365 applications out of the box with all the cloud integrations like Outlook offline cache, OneDrive sync just like you would expect in a local desktop experience.

Multi-Session Windows 10 (only available in Azure) provides significant cost savings whilst providing full Windows 10 application compatibility and functionality along with regular updates.

Low entry costs that scale as you grow – you don't need to setup a big complex infrastructure upfront to control and manage the VDI environment, Microsoft takes care of that for you. You can start with as little as a single virtual machine for up to about 20 users. Although for more mission critical environment we would recommend multiple desktop VMs and a highly available file server solution.

Continued support for Windows 7 – Windows 7 will go out of support in January 2020, but Microsoft will offer free extended support and updates for Windows 7 in Azure for a further 3 years until 2023. This can give a bit of leeway for organisations who have legacy applications that are not supported on Windows 10 or who have not yet planned to be migrated to Windows 10 by the end of the year.
There are, however, some downsides to consider:
Currently there is no support for Teams or Skype, although Teams support should be coming soon albeit without any voice or video functionality.

The management and fine-grained control over the environment is limited especially compared to more enterprise focused VDI solutions such as Citrix. But then these enterprise VDI solutions are considerably more expensive and complex to install and maintain.

At the moment much of the configuration and management must be done through PowerShell, but a management GUI is expected to be provided in the Microsoft Azure portal for general availability.
Our takeaways…
We have been running Windows Virtual Desktop internally at Virtuoso during the public preview and have found it to be a great Windows 10 experience. The desktop is generally fast and responsive and the user experience has been great!
Good User Experience
Windows Virtual Desktop doesn't work with the built-in Remote Desktop client in Windows, but once installed, the new WVD client provides a simple interface to your published applications and virtual desktops. On opening the new client, you just sign in with your Office 365 credentials and your applications and desktops are displayed. They are also automatically populated into your local Windows 10 desktop Start Menu so you don't even have to run the WVD Client to access them.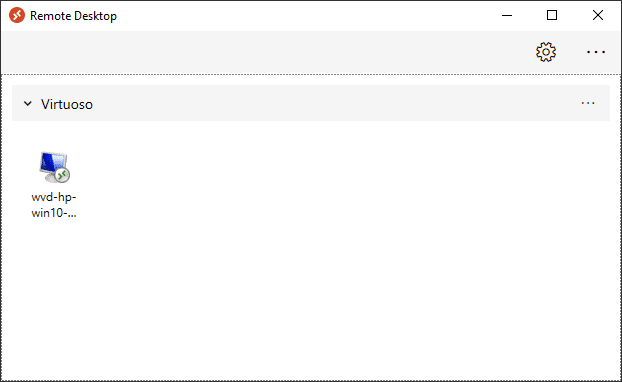 Simple setup but also simple functionality
All of the basic functionality you would expect on the user session side is included, like the redirection of client drives and printers, smart card support, audio and clipboard redirection.
This functionality is all enabled by default but can be enabled or disabled on a per host pool basis (a 'host pool' is a set of virtual machines all running the same image and publishing the same applications or desktop). So if you had an application with sensitive data you could publish it from a separate host pool with client drives and printers and clipboard redirection disabled.
If you have single sign on (SSO) configured with Azure AD or Office 365 then this will work for your Windows Virtual Desktop connections. There is also an option to configure SSO through ADFS and internal AD on the back-end tenant level.
If you don't have any sort of SSO configured, or are on a device that isn't workplace joined with your Office 365 credentials, then you will be prompted to enter your password when you connect to a desktop or application session. But you can cache your credentials to stop the password prompt on opening a new session. Once you have an application session running additional applications will run in the same session, providing they are published from the same host pool.
Coming from an enterprise VDI solution like Citrix there are some functional limitations. The main one for me, personally from a user's point of view, is the inability to dynamically resize a published desktop session to match the client window and seamlessly change from multi-monitor, to single monitor to window. If you are using WVD as your main desktop then this is unlikely to be an issue as you would just run it in full screen mode multi-monitor all day. Multi-monitor support can be enabled or disabled again on a per host pool basis.
You're responsible for your own updates
You are responsible for applying Windows and other updates to your desktop virtual machines in your Azure subscriptions. Once the virtual machines have been deployed through the Azure Marketplace or ARM templates from the image you specify they are standard VMs each with their own separate disks and not linked to the original image.
You can use the built-in Azure Update Manager functionality to automatically apply Microsoft updates to your desktops VMs. This is a free tool built into Azure that can update groups of Azure VMs on specific schedules, control which updates are allowed and centrally report on the update status of all VMs managed by the solution.
Microsoft have created ARM templates that can redeploy an entire host pool from a new image, but this requires a high level of Azure administration knowledge to successfully apply. At some point I would expect this functionality to be built into the GUI management portal, but this is unlikely to be there from the initial release.
As a cloud service WVD will be continuously and regularly updated, a nice feature that is included in the preview is the ability to have a nominated validation host pool that will be updated first to allow you to test and verify the WVD service updates before they are rolled out to other host pools in your WVD tenant.
To sum it up
Windows Virtual Desktop, even in preview, provides a great end user VDI experience for Windows 10 desktops and Office 365. Larger enterprises may need the additional features and governance controls of enterprise VDI solutions like Citrix, but for many SMBs with simpler requirements Windows Virtual Desktop is a great fit.