4 useful Microsoft apps you never knew existed…
Even if you are not a Microsoft 365 customer, we have no doubt in our minds that you will be familiar with the products and services included within it.
Word, Excel, PowerPoint, SharePoint, Outlook, Teams… The list goes on! These applications have revolutionised business operations. In fact, they are the most widely used suite of cloud products in the world, with over a million companies using Microsoft 365 globally.
That kind of number speaks for itself. We don't need to tell you that Microsoft cloud products are incredibly secure, reliable, scalable and innovative. You already know that. What you might not know, however, is what's available when subscribing to Microsoft 365. Other than the obvious products mentioned above, Microsoft has a whole range of less recognisable tools available that can support business operations, automate processes and improve efficiency.
As a Microsoft Gold Partner, maybe we're biased… But we think Microsoft is ahead of the game. Not a month passes without Microsoft revealing fresh features or a new tool that all businesses can benefit from. To back-up this claim here's 4 useful Microsoft apps you never knew existed (that your business can start using today!)…
1. Microsoft Bookings
Juggling busy work schedules and appointments is something we are all familiar with, which is why it's vital to have a booking system in place that's easy to use and reliable.
You may have previously come in to contact with Google Calendar or Calendly, two popular scheduling systems that allow individuals to book meetings with ease.
But have you heard of Microsoft Bookings?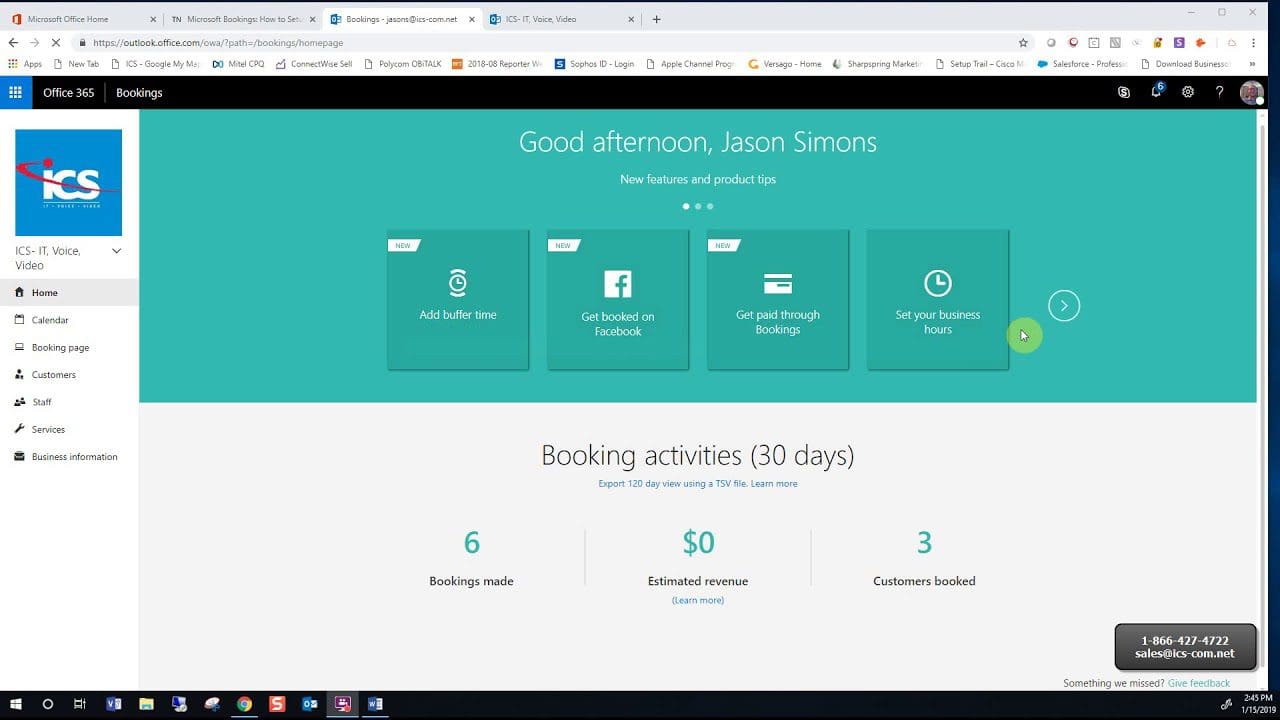 Microsoft Bookings is a cloud-based platform that helps to manage bookings, rescheduling, cancellations, calendar invites and much more. This easy-to-use booking system will take the strain out of creating manual meeting requests, by revealing the most convenient time in your calendar and automatically following-up with handy confirmations and reminders to ensure no meeting is ever forgotten.
What puts Microsoft Bookings ahead of Google Calendar, Calendly and the various other scheduling assistants is that it's been designed with businesses in mind. All bookings will sync automatically with your Outlook and advanced options even allow you to schedule reoccurring meetings with clients in your database.
Bookings is rated as one of the top 20 scheduling software's on the market.
Interested? Microsoft Bookings is included as part of many Microsoft 365 subscriptions.
2. Microsoft Stream
In the modern-day, we understand the impact of video. It's a powerful tool for businesses today when sharing business updates or implementing training.
You might use YouTube or Vimeo to store and share videos with your team, as these are somewhat dependable tools in the video market.
But have you heard of Microsoft Stream?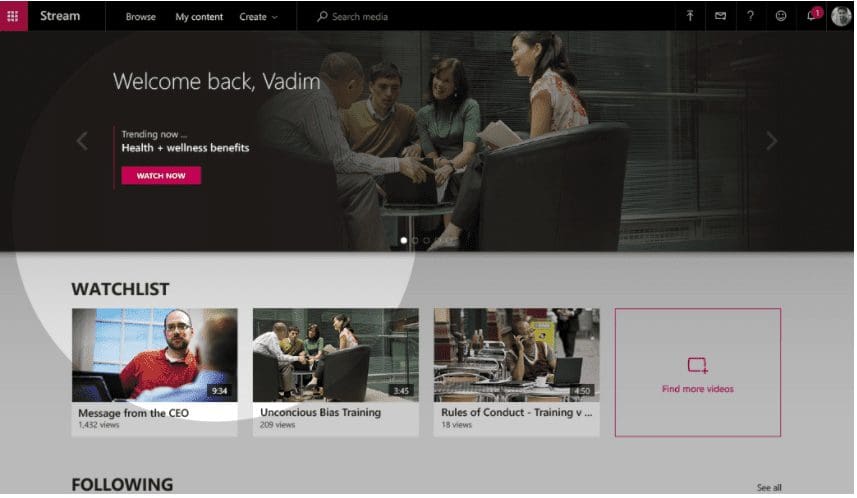 Microsoft Stream has been built to support businesses with their visual communication journey. You can watch videos from your organisation right from within the Stream application or access them via collaboration platforms like SharePoint and Teams.
But why is it better for your business than YouTube, Vimeo or some of the other top video tools? Again, it's been designed with business-focused features. Upload your videos and receive auto-generated captions, without having to do the manual work. Face detection features create ease when searching for quotes or comments from particular subjects. Videos can be easily organised into folders and shared across other Microsoft applications. And comments, editing and sharing abilities make it easier to ensure information is always accurate and up-to-date.
"We rely on technology solutions that enable our employees to stay connected and engaged. Stream makes it easy to securely share video content, so everyone can access the information that's important to them." Greg Vise, Vice President of Technology, Epsilon
Interested? Microsoft Stream is a licensed on a per user subscription basis and is available as part of eligible Microsoft 365 subscriptions.
3. Microsoft Project
Staying focused and organised when tackling large or complex projects can be a challenge. It's vital to ensure all members of your team know their responsibilities and deadlines.
This might be why we've seen a surge in project management applications. Monday.com and Asana are two familiar tools you might have crossed paths with.
But have you heard of Microsoft Project?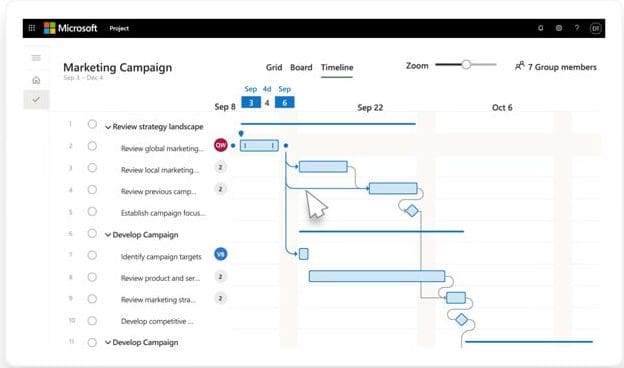 Microsoft Project is a cloud-based tool that enables you to keep all your project files, timelines and tasks in one organised place. Its intuitive design means individuals from any department can embrace it for managing their work.
It knocks other project management tools out the water as it seamlessly integrates with other Microsoft 365 products, meaning your workforce can deliver end-to-end projects without disruption. It provides cross-departmental visibility and control over projects, whilst providing a secure place for all individuals to access valuable resources. Built-in templates, reporting, task assignment and scheduled reminders make being a Project Manager of a complex project easier than ever.
Microsoft Project is consistently recognised as a leading project management tool.
Interested? You can either purchase a singular subscription to Microsoft Project or add it to your existing Microsoft 365 subscription.
4. Microsoft Forms
Getting the opinions of your staff and stakeholders is essential to the success of your business. How do you know where there's room for improvement, without doing some digging?
Surveys, polls and quizzes are all useful ways of gathering feedback. You may use SurveyMonkey or easyfeedback.
But have you heard of Microsoft Forms?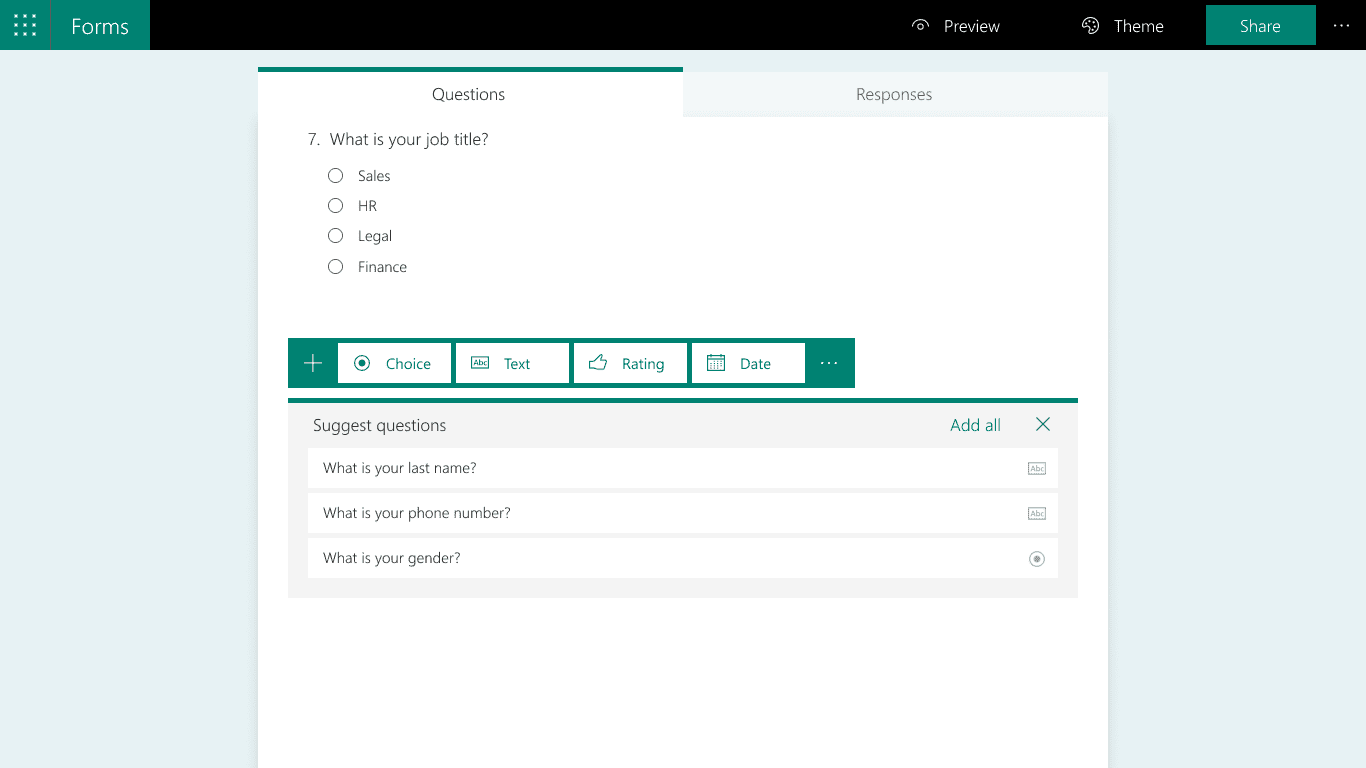 Microsoft Forms has stormed the survey market, by offering an easy-to-use tool for creating and distributing forms. Of course, it integrates effortlessly with other Microsoft applications, meaning your respondents don't even have to leave their current platform to give you their thoughts.
It trumps other survey tools as it gathers responses in real-time, meaning you don't even have to wait to begin building new initiatives around your workforce's feedback. You can download response data easily to Microsoft Excel spreadsheets. You can even include it as part of Power Automate workflows so that your desired interviewees receive their survey at the perfect time.
Microsoft Forms is a friendly, easy-to-use survey tool that will work alongside your other Microsoft apps.
Interested? Microsoft Forms is generally included in all Microsoft 365 subscriptions.
Begin using these tools today!
We don't know about you, but we're always trying to cut down the number of systems and tools in our business. A subscription to Microsoft 365 can do that for you!
You could have everything from content and communication tools, to video and surveying apps, all available from one amazing service.
As a Microsoft Gold Partner, we can help you get more from your Microsoft 365 subscription so that your business can work more productively and efficiently.
For more information about how we can work in partnership with your business, get in touch!