As our lives get busier, we're all looking for ways to boost our productivity. The good news is that there are an abundance of apps and tools out there to help you increase your productivity. From to-do list apps to note-taking tools, browser extensions to image storage, Microsoft has got it covered and sometimes you just need a point in the right direction to discover these handy time-savers at your fingertips.
1. Microsoft To-Do
Microsoft To-Do allows you to create simple-but-intelligent to-do lists with reminders. You can also keep track of your progress on different projects and create as many separate lists as you want to help organise your projects. Use it to keep track of just about anything like work projects, shopping lists and errands.
You can focus in on specific daily tasks using the My Day feature in To-Do. You can add items from your projects and the To-Do list to My Day, and see at a glance what you need to accomplish each day. Add due dates and reminders to list and to-do items so you don't forget anything. Add detailed notes to your items, like addresses and website URLs.
You may notice that To-Do looks similar to Wunderlist, this is because Microsoft now owns Wunderlist. If you've been using Wunderlist, you can import your Wunderlist items directly into To-Do. What's more, your lists will sync across your devices, so you can manage your tasks on the go.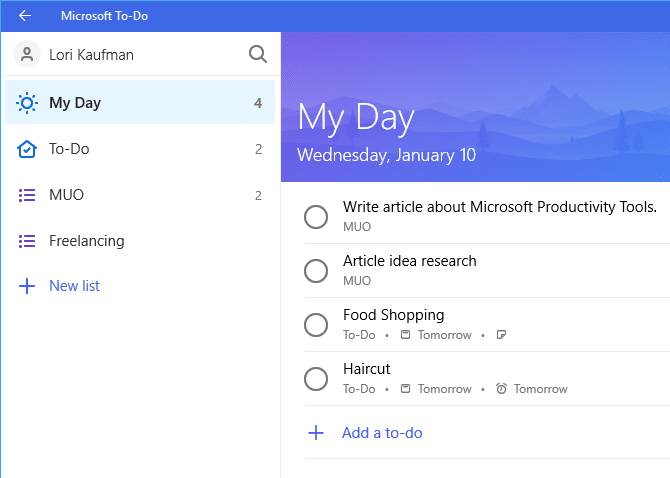 2. OneNote Web Clipper
So, you may be browsing the web doing research for a project. You've found several web pages you want to read, but you suddenly realise you need to be elsewhere. Do you bookmark them or add them to a service like Pocket or Instapaper, just to have them get lost in a big list of items you planned to read later?
If you use OneNote to store and organise your information, there's a better solution. You can save almost anything to OneNote. The OneNote Web Clipper browser extension allows you to quickly and easily clip web pages, images, PDF files into notes that become part of your OneNote collection of notes and notebooks. The clipped content is stored in OneNote and available on any device on which you use OneNote, even when you're offline.
You can clip a full web page, a region of a web page as a screenshot, just the main article on the page, or a visual bookmark of the page. You can save the clip in any section of any notebook. The URL is included at the top of the clipped item.
Download: OneNote Web Clipper for Web (Free)


3. Send to OneNote
Send to OneNote is like the OneNote Web Clipper, but it expands the capability to other types of documents other than web pages. It allows you to "print" from any app to a page in OneNote. Instead of printing a Word file to a printer, you can select Send to OneNote when printing the document. A copy of the file, as it would be printed on paper, is captured and saved in OneNote.
Once your document is in OneNote, you can access and annotate it, even when you're offline. You can also access the document on any other device running OneNote, like your phone or tablet. If you're running OneNote 2016, which is the desktop app installed with Office 2016, you'll see 'Send to OneNote' in the list of Printer choices for printing your document. In that case, you're all set.
If you're running the free OneNote for Windows app from the Microsoft Store, you'll need to install Send to OneNote from the store. Then, you'll see Send to OneNote in the list of printer choices.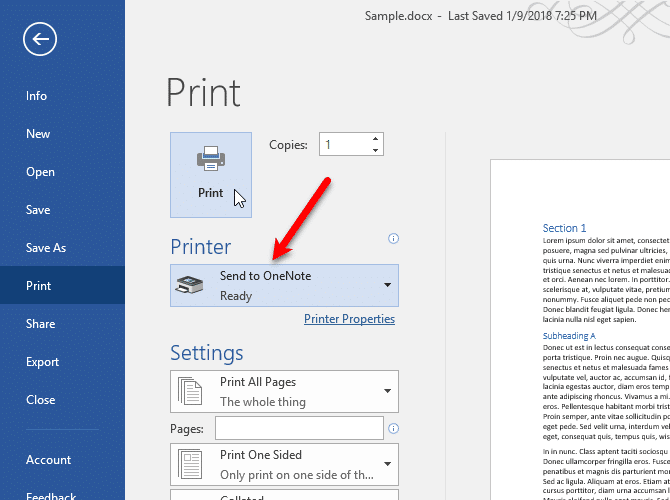 Download: Send to OneNote for Windows (Free)


4. Sticky Notes
This is a really handy one. If you're the type of person, likely to have sticky notes stuck to your monitor and sitting all over your desk then you can get rid of all that extra paper and store your notes on your Windows desktop instead.
The app became a Universal Windows Platform (UWP) app in the Windows 10 Anniversary Update. The Sticky Notes UWP app can be launched as a standalone app or as part of the Windows Ink workspace. When you run it from within the Windows Ink workspace, the rest of the desktop is blurred.
Sticky Notes accepts pen input and can recognize handwriting. It integrates with Cortana and can create reminders from notes that contain a date.
Download: Sticky Notes for Windows (Free)


5. My Office
If you need to remember which computers you've installed Office from your Office 365 account and want a quick way to access any type of Office document you've opened recently then My Office is an app that provides access to all your Office 365 subscription benefits in one place. You can manage your account, open programs included in your subscription, and access recent Office documents of all types. You can also get help and training and provide feedback about Office 365.
Download: My Office for Windows (Free)


6. Office Online for Microsoft Edge
Perhaps you need to use an Office app like Word or Excel, but you don't have a licence? Maybe you do have a license, but you need to use Office on a computer with minimal disk space. Or maybe you've reached the maximum number of installations in your Office 365 account, and you need to use it on another computer.
You can log in to Office Online in a browser, or you can easily access Office Online using an extension in Microsoft Edge. Office Online for Microsoft Edge allows you to view, edit, and create Office files directly in your browser. Using the extension, you can open files from OneDrive and from your computer.
Office Online contains limited functionality compared to the desktop Office apps. However, it's enough to do basic document creation and editing and to view Office files. All you need to use Office Online is a Microsoft account.
Download: Office online for Microsoft Edge (Free)


7. Mail and Calendar
Microsoft's free Mail and Calendar app, also known as Windows 10 Mail, is an easy-to-use email client that also provides access to your calendars and contacts. It supports Office 365, Outlook.com, Live.com, Exchange, Gmail, Yahoo, iCloud, and other POP and IMAP accounts.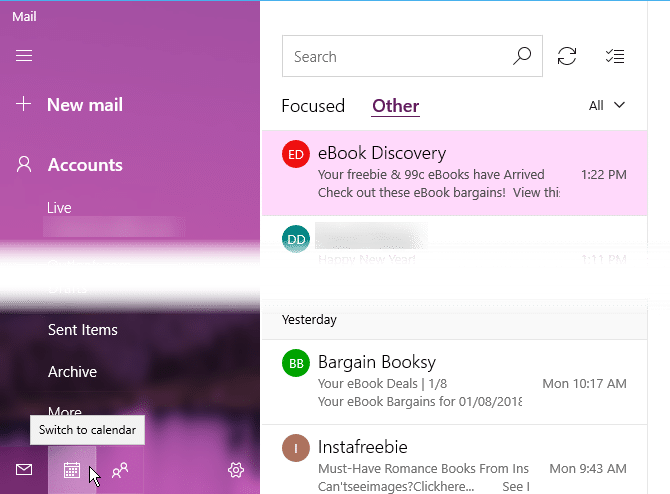 Download: Mail and Calendar for Windows (Free, included with Windows 10)


8. Office Lens
Do you sometimes find you have a lot of printed and written notes lying around? Are you constantly losing important documents, like receipts? Your smartphone is always with you, so why not use that to capture and store documents, receipts, notes, and other forms of information.
Office Lens is an app that allows you to take pictures of documents and whiteboards and makes them readable. Office Lens converts images to PDF, Word, and PowerPoint files, and is a perfect companion to OneNote. Printed and handwritten text is automatically recognised using OCR technology, so you can create editable text from your scanned images.
You can use Office Lens on your Windows 10 computer, but it's more convenient to use it on a portable device like a smartphone or tablet. It's like having a portable scanner in your pocket. Scanned items are saved in the Documents folder in your OneDrive account, so you can access them on other devices.
Download: Office Lens for Windows | iOS | Android (Free)


9. Phone Companion
Do you have an iPhone and use a Windows PC instead of a Mac? Windows 10 allows you to connect your iPhone or Android phone to your Windows PC and get the stuff you want to take with you from your computer to your phone.
You can use the Photos app in Windows 10 to sync your photos between your computer and your phone and tablet, access your Office documents on the go, get your email and manage your calendar with Outlook on multiple devices, and access your OneNote notebooks anywhere you go. The Phone Companion app in Windows 10 will help you get set up so you never have to plug your phone or tablet into your PC again.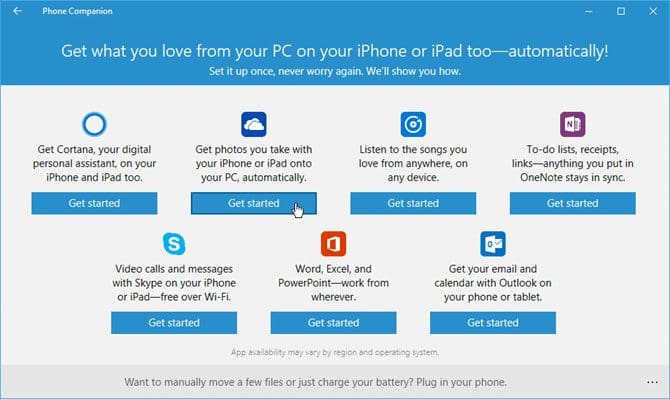 Download: Phone Companion for Windows (Free)
10. Baconit
Do you spend a lot of time on Reddit? It may seem like a huge time waster, but Reddit can be used productively. It's is a useful source for news, events, technology, gaming, humor, and more.
There are many Reddit alternatives. The highest rated Reddit client for Windows Phone has been rewritten and is now available for all Windows 10 devices. Baconit provides a clean, easy-to-use interface for browsing the vast amount of information available on Reddit.
Navigate through sub-reddits quickly and easily with the full sub-reddit sidebar, add your own posts, and add formatted comments to other posts. Baconit also provides an in-depth Reddit search that supports all search filters.
Download: Baconit for Windows (Free)